Introduction
It's that time of year again and Apple's in the usual record-breaking mood at the box-office
.
This is an
S
year in the Cupertino calendar but different enough - it may be that two phones instead of one account for almost double last year's record sales
.
We can only guess as to which one contributed how, but this is hardly the point
.
We have the latest flagship reporting for duty and it will be both the main course and the desert, considering the 5c didn't quite impress as an appetizer
.
As with every "S" version of the iPhone the changes are subtle but not illusory
.
There's no new design obviously, no bigger screen or a bump in resolution - nothing to go against the conservative grain of how Apple typically delivers iPhone upgrades every other year
.
That said, it's not this phone's fault that the iPhone 5 wasn't the full-digit upgrade everyone was hoping for
.
As usual with Apple - we need to give it that - a certain set of users just can't wait to get the next big thing
.
Others, though, won't just get rid of the iPhone 5 unless the newcomer is convincing enough
.
An iPhone may fail to meet the (usually over-inflated) expectations but it has never been a product to be displeased with
.
The new OS version may be a decider as well, if more people share our experience and feel the slowdown on an iPhone 5 running iOS 7, but the rest of the new stuff may as well be just enough to tip the scales in favor of the iPhone 5s
.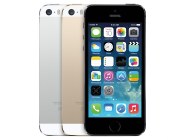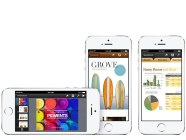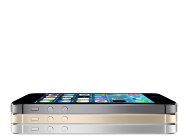 The iPhone 5s
The first thing that makes a tangible difference is Touch ID, with a fingerprint scanner having made the iconic Home button its residence
.
The camera has a bigger sensor and dual LED flash, and gladly takes advantage of what's probably the most notable improvement - the 64-bit A7 chip
.
The iOS enters its 64-bit stage in its seventh iteration, well ahead of the competition
.
What this means is better memory management and more complex tasks and apps ahead
.
This could as well be the first step to bringing the iOS closer to Apple's dedicated desktop OS X - an early message that both platforms are due for a rendezvous eventually
.
Key features
Quad-band GSM and quad-band or penta-band 3G support with 21 Mbps HSDPA, 42 Mbps DC-HSDPA and 5.76 Mbps HSUPA
LTE support on all models and CDMA support when sold by CDMA carriers
4" 16M-color LED-backlit IPS TFT capacitive touchscreen of 640 x 1136px resolution, 326 ppi
Corning Gorilla Glass, fingerprint-resistant coating
1.3 GHz dual-core ARMv8 64-bit CPU, PowerVR G6430 GPU, 1GB of RAM, Apple A7 SoC
iOS 7 and iCloud integration
8 MP autofocus camera, 1/3'' sensor size, 1.5µm pixel size, True Tone dual-LED flash, touch focus, digital image stabilization
1080p video recording at 30fps, 720p@120fps slow motion videos
1.2MP secondary front-facing camera, 720p video recording
Touch ID fingerprint scanner embedded into home button
Wi-Fi 802.11a/b/g/n, Wi-Fi hotspot
GPS with A-GPS connectivity, GLONASS support; digital compass
16/32/64GB storage options
Accelerometer, proximity sensor and a three-axis gyro sensor
Active noise cancellation with a dedicated secondary microphone, dedicated third microphone for Siri
Standard 3.5 mm audio jack, stereo Bluetooth v4.0
Apple Maps with free voice-guided navigation in 50-odd countries
iTunes Radio
AirDrop file transfer
Voice recognition, Siri virtual assistant
Supports HD Voice (needs carrier support too)
FaceTime video calls over Wi-Fi and cellular
Impressively slim and light
Main disadvantages
Screen feels small by 2013 standards
Very expensive without carrier subsidies
TouchID is greatly underused
No USB Mass Storage mode, iTunes required for data transfer
No FM radio
No expandable storage, sealed-in battery
No NFC connectivity
1080p@30fps video recording is low by current flagship status
Mono audio recording in videos
The iPhone 5s pushes the major re-design another year back - but this is something we can live with
.
After all, the styling of the iPhone is still relevant - to say the least
.
Digging a little deeper reveals that Apple has taken good care of bringing many major facets of performance to a new level on its latest flagship
.
The processor, the camera, Touch ID, video recording and still imagery, low light performance, and naturally, the look and feel of iOS 7
.
The iPhone 5s at HQ
However many things are still annoying about the iPhone - many, if not all, repeating themselves years on end
.
We like the premium compact and lightweight body of the iPhone but perhaps Apple is running out of excuses in terms of screen size and resolution
.
And that's what makes the next point even more agonizing - the price
.
Apple tax or not, the iPhone 5s is more expensive than any of the competition's flagships, and by a good margin too
.
The bottom line is Apple is charging more and delivering less: a smaller screen, lower resolution, less storage
.
Oh well
.
Who can blame them if they can get away with it? Scratch that - make an art of it
.
Anyway, an iPhone has always been more than the sum of its specs
.
But we're going to do the math anyway. Starting with the hardware, which may look similar but not without some noteworthy changes
.
Let's go.
iPhone 5s retail package
The iPhone 5s comes in a retail box that's exactly the same as the iPhone 5's from last year in terms of size and shape. Our Space Grey unit came in a white box, whereas last year's Black model came in a matching-color packaging.
The box contents haven't changed either - you get the Apple lightning USB cable, an A/C adapter, EarPods headset with volume controls and microphone in their separate box and the SIM tray eject tool. There are a bunch of leaflets and, for the first time since the iPhone 4, Apple has thrown in two stickers.
Apple iPhone 5s retail box

Apple iPhone 5s 360-degree spin
The iPhone 5s has kept the exact same dimensions and weight as the iPhone 5. At 123.8 x 58.6 x 7.6mm and 112 g, it's probably the most compact premium smartphones in the market. Just not sure this is the compliment it appears to be, considering what kind of screen size and resolution qualifies as premium these days.
Four inches of screen diagonal is what the iPhone 5 also has, the build and finish being the same too. Obviously there was room for the new processor, bigger battery and camera sensor, along with the new fingerprint scanner, in the old iPhone body.

Design and handling
The design of the iPhone 5s, like with every S version in the iPhone lineup, hasn't changed dramatically. And we'll say it again - it doesn't need to. The most prominent change are the color options - the White Silver option is the only one that looks identical to the iPhone 5 - the Black of old is now Space Grey, which is a much lighter hue, which contrasts nicely with the dark strips top and bottom. And, there's the brand new Gold option.
The True Tone flash, which is essentially a dual LED flash, and the home button doubling as a fingerprint scanner are the only other differences over last year's flagship.
Apple prides itself on the immaculate build of its flagship iPhone and this year's model is simply the next installment in the premium category. Every detail has been carefully considered and crafted so as to deliver the impressive 112g of weight. The front is entirely covered in Corning Gorilla Glass, with cutouts for the earpiece and home button only. The sapphire crystal and stainless steel-framed Touch ID button looks very subtle on the iPhone 5s face, contributing to an almost uniform glass surface.
Two black strips of glass frame the aluminum plate around back. The aluminum is matte and feels grippy enough. It proudly features the iconic logo and the iPhone inscription, in contrasting mirror-glass surface.
The iPhone 5s
What the iPhone 5s is missing, compared to the iPhone 5 is a black paint job.
Compared with the iPhone 5 and 5c
Handling the iPhone 5s is a pleasure, which is hardly any news. It's built to the highest standards and has a premium feel that few can even hope of matching. The screen size is the only thing that out of line with current trend.
Handling the iPhone 5s
There a numbered few smartphones in the market that come close to the iPhone 5s in terms of build quality and finish. The HTC One comes to mind with its curvaceous, yet uncompromisingly cool aluminum back. Sony's Xperia Z1 has the steel frame to compliment the front and rear glass panels but it feels huge compared to Apple's latest gadget.

Controls
Most of the front is taken up by the 4" Retina display, with the resolution of 640 x 1136 pixels breaking down to 326ppi
.
It's a LED-backlit IPS LCD, but more on that in the dedicated display chapter
.
iPhone 5s up front
Under the screen sits the good old, but actually brand new, Home button with Touch ID
.
The fingerprint scanner is essentially a CMOS sensor, which takes pictures of your fingerprint in 500ppi, processed by the A7 chip
.
Underneath is the familiar home button
.
A double press will launch the task switcher, while a press and hold will fire up Siri
.
Above the screen sit the usual earpiece and a new iSight camera
.
Inside the earpiece Apple has placed a dedicated third microphone, which is used in voice recognition
.
The front-facing camera features a BSI sensor and larger pixels, but is still stuck on 1280 x 960 stills and 720p video recording
.
Above and under the screen
The Touch ID sensor is covered with a capacitive layer under the sapphire crystal, which meets your finger
.
The button is encircled by a stainless steel frame accent that matches the phone's color option - in this case black to go with the surrounding glass surface
.
Touch ID
On the left you get the usual three buttons: volume up, volume down and a Mute toggle
.
The latter is rather stiff, which makes is pretty hard to operate with one hand, even though it's located in a way to comfortably fall under your finger
.
Then again, probably that was required to prevent accidental pushes, which can potentially result in missed calls
.
On the right you find the tray, which pops open to reveal the nanoSIM slot
.
The fact that you need a pin to operate it is hardly ideal, though, particularly if you need to exchange SIM cards on the go
.
The sides of the iPhone 5s
The top of the iPhone 5 hosts nothing but the power/lock button - no fancy IR blasters for remote control of various appliances here
.
The power button
The bottom features the lightning port in the center, the 3
.
5 mm headphone jack to the left along with the main microphone and single speaker nestled under micro-drilled holes that form two grilles
.
Apple is using its familiar proprietary screws here so you'll need to get the appropriate pentalobe screwdriver to undo them if you're into to repairing your device at home
.
The lightning cable that comes with the iPhone 5s (iPhone 5, 5c, 4th-gen iPad and the iPad mini) features an authentication chip so don't go thinking you'd be able to buy just any third party replacement cheaper and use it for backing up or syncing your iPhone 5s - it's not guaranteed to work
.
The lightning end of the cable can be inserted either face up or down into the iPhone 5s, which is a nice touch
.
The lightning connector at the bottom
Finally we come to the back of the iPhone 5s
.
The most notable change, visually at least, is the dual LED flash
.
It features one white and one amber-colored LED, which in combination should favor more natural skin tones when shooting with a flash
.
Then there's the new iSight camera. It has seen a sensor increase of about 15% - 1/3" up from 1/3
.
2" - without affecting the resolution. It's 8MP, just as before, but the pixel size has been increased from 1
.
4 µm to 1.5µm, meaning in theory each pixel will gather in more light due to its larger size
.
The new flash and camera on the back
To help increase the light intake Apple has also increased the aperture from f/2
.
4 to f/2.2, while sticking with a 5 element lens.
Display
Apple decided that the 4" Retina from last year is still good enough by 2013 standards
.
The screen is an IPS LED-backlit LCD with a resolution of 640 x 1136 and 326ppi
.
Apple are using the same display two years in a row, and it will sure want us to take it as a statement, a refusal to give in to the screen size craze
.
It may have a point as far as screen resolution goes
.
The iPhone 5s has more than enough of it for this kind of size
.
But 4 inches of diagonal doesn't quite cut it anymore, not in the premium segment, where power users and heavy multimedia consumers shop
.
And we're not saying that Apple needs to cross the 5" barrier but are pointing instead to manufacturers like Motorola, which managed to squeeze a 4
.
7" screen in a device that's not significantly taller or wider than an iPhone 5s
.
At least some of the space above and below the screen seems wasted
.
The LG G2, in comparison, has side bezels half the size, while the top and bottom of the 5
.
2" device are still slimmer
.
We are not talking proportions either - the iPhone is lagging in terms of absolute values and that takes away a bit of the premium feel
.
The display
The display matrix of the iPhone 5s is exactly the same as the one on the iPhone 5 and 5c
.
There are red, green and blue pixels in a straight line and equal size
.
Here goes the matrix
.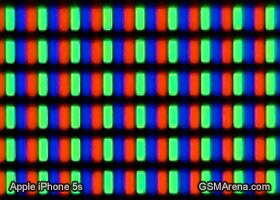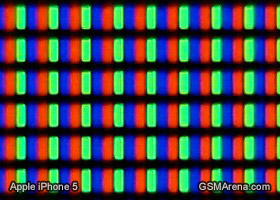 Apple iPhone 5s • Apple iPhone 5
The differences between an iPhone 5s and an iPhone 5 are almost non-existent in the screen department
.
The black levels are pretty much on par
.
The brightness seems a little lower on the iPhone 5s and the same goes for contrast but the differences are almost imperceptible to a naked eye and could be a result of some tweaks in the iOS 7 software, compared to iOS 6
.
For all purposes practical the iPhone 5s screen can be considered identical to that of the iPhone 5
.
Display test
50% brightness
100% brightness
Black, cd/m2
White, cd/m2
Contrast ratio
Black, cd/m2
White, cd/m2
Contrast ratio
Nokia Lumia 1020
0
172
∞
0
398
∞
Nokia Lumia 920
-
-
-
0.48
513
1065
HTC One
0.13
205
1580
0.42
647
1541
Samsung Galaxy S4
0
201
∞
0
404
∞
Apple iPhone 5s
0.14
163
1145
0.49
596
1219
Apple iPhone 5
0.13
200
1490
0.48
640
1320
As far as sunlight legibility goes, due to the slightly lower brightness the iPhone 5s falls a little short of its predecessor
.
However the contrast in direct sunlight remains excellent, and better than that of its direct rivals
.
Sunlight contrast ratio
Nokia 808 PureView
4.698
Apple iPhone 5
3.997
Apple iPhone 5s
3.565
Samsung Galaxy S4
3.352
Samsung I9300 Galaxy S III
3.419
Samsung Omnia W
3.301
Samsung Galaxy S
3.155
Nokia N9
3.069
Samsung Galaxy Note
2.970
HTC One S
2.901
Samsung Galaxy S II
2.832
Samsung Galaxy S II Plus
2.801
Huawei Ascend P1
2.655
Nokia Lumia 900
2.562
HTC One
2.504
Sony Xperia Z
2.462
Samsung Galaxy S III mini
2.422
Motorola RAZR i
2.366
Samsung Galaxy Note II
2.307
Apple iPhone 4S
2.269
HTC One X
2.158
Nokia N8
2.144
Nokia Lumia 1020
2.103
Oppo Find 5
2.088
BlackBerry Z10
2.051
Apple iPhone 4
2.016
Sony Ericsson Xperia ray
1.955
Samsung Galaxy Camera
1.938
HTC Butterfly
1.873
Sony Xperia V
1.792
Sony Xperia U
1.758
LG Optimus 4X HD
1.691
HTC One V
1.685
LG Optimus Vu
1.680
HTC Desire V
1.646
LG Optimus G Pro
1.552
LG Optimus 3D
1.542
Nokia Asha 302
1.537
Nokia Lumia 610
1.432
Gigabyte GSmart G1355
1.361
HTC Desire C
1.300
LG Optimus L7
1.269
LG Optimus L9
1.227
Meizu MX
1.221
Sony Xperia E dual
1.203
Samsung Galaxy Pocket
1.180
Sony Xperia tipo
1.166
Samsung Galaxy mini 2
1.114
You can find more information on our various display tests
here
.
Battery life
The battery inside the iPhone 5s is of slightly higher capacity, in view of the new 64-bit A7 processor
.
Last year's iPhone 5 went with 1440mAh, whereas this year we find a 1560mAh unit inside the iPhone 5s
.
We're be still digging into the iPhone 5s' real-life battery performance but Apple promises the same exact numbers as last year - 250 hours of stand-by, 10 hours talk time on 3G, 8 hours of browsing on 3G and 10 hours on LTE and Wi-Fi
.
We'll update this page with the results when our test completes
.
Apple iPhone 5s and iOS 7: a match made in heaven
The Apple iPhone 5s runs buttery smooth with iOS 7, a major overhaul to the user interface with brand-new flat looks, transparent menus and keyboard, new system icons and apps, new control center and much more
.
Before we continue, here is a quick video demonstration of the new iOS 7 running on the iPhone 5s:
iOS 7 looks a lot different compared to its predecessors, but its logic of operation is mostly the same
.
All of your apps are on the homescreen, folders are available and there is the familiar dock that can take up to four shortcuts
.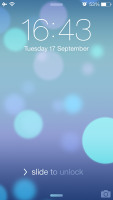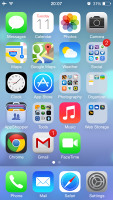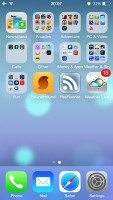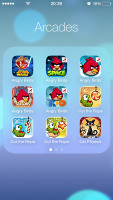 Apple iOS 7
All system icons are different though: the clock now has an animated icon showing the current time, the system fonts have been altered, and there are lots of semi-transparent elements and new gestures
.
Let's start from the beginning - the lockscreen
.
It's totally different and yet it works in a very similar way
.
The slide to unlock bar is now gone and you can swipe anywhere on the screen to unlock your iPhone 5s
.
The text is somewhat illogically placed right above the tiny arrow for the control center which points up, but you actually still need to slide to the right to access the homescreen
.
The swipe might've worked both ways, left too, but that's not the case
.
There are three different unlock methods for you to choose from
.
One that is unique to the iPhone 5s is TouchID (more on that in a minute), but there's also the classic 4-digit passcode
.
If that's too insecure for your taste, you can also opt for a custom passcode
.
This will bring you a text field where you can enter a virtually limitless security combination
.
The lockscreen also has the camera shortcut at the bottom, you can swipe up from there for quick access to the camera app
.
A double press of the Home key will bring up the multimedia controls as usual
.
Lockscreen notifications are available as well.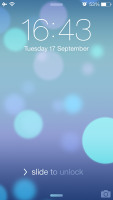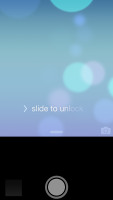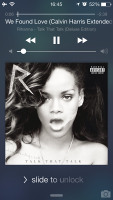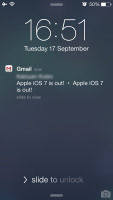 The lockscreen works as before
You can notice two transparent arrows at the top and the bottom of the lockscreen
.
Swiping from the top down will display Notifications, while swiping up from the bottom will bring up the new Control Center
.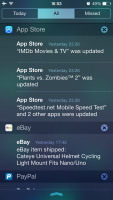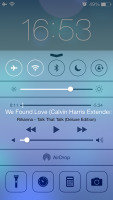 Notifications and Control Centers are available on the lockscreen
Swiping the lockscreen out of the way reveals the revamped homescreen
.
The Spotlight pane is now gone - but not lost. It's just triggered by a new pull-down gesture anywhere on the homescreen
.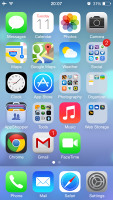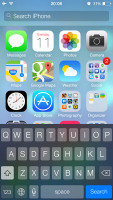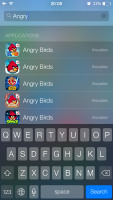 The Spotlight is now hidden but has a dedicated gesture
Folders are available as usual, but there is no limit any more to how many apps you can put inside them
.
Pages are available in the folders, each page can pack up to nine apps and there is no limit on the page count
.
And you can finally put the Newsstand app away in a folder
!
Hallelujah
!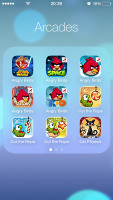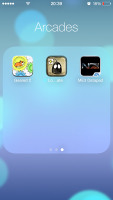 An iOS 7 folder
The opening and closing of folders is now accompanied by a cool animation
.
These take a bit too long, though, and might become irritating once you are past their initial "wow" phase
.
Another cool bit involves the folder icons and the folders themselves being semi-transparent and their backgrounds adapt to the prevailing theme color
.
You may have already noticed the semi-transparent dock, folders, keyboard and Control Center in the screenshots
.
The Notification and Control Center colors are also adaptive, just like the folders, and they'll change depending on the background
.
So they might be blue-ish on the homescreen, but light gray in the web browser, or dark gray in the settings, or green in the gallery, etc
.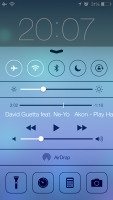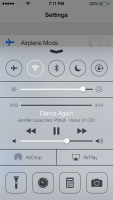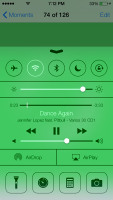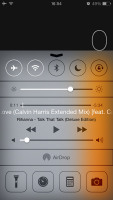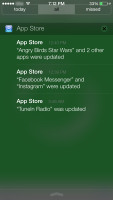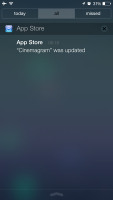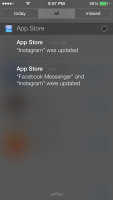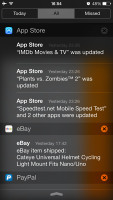 The semi-transparent Control Center and Notification Center in different colors
The keyboard is less transparent and has only two themes - very light or very dark gray
.
Of course, they also change depending on whether your keyboard has popped up on top of a light or a dark background
.
Beside the new theme and font, the iOS keyboard is unchanged, which is not a bad thing as it's certainly one of the most comfortable around
.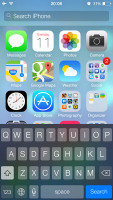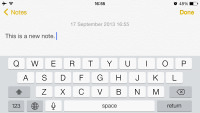 The iOS 7 keyboard
Dictation is also available courtesy of Siri
.
Just hit the dictation button to the left of the space bar and fire away
.
Keep in mind that the performance may suffer in noisy environments
.
The changes don't end with those transparent and adaptive visuals
.
Opening an app involves a zoom in animation over the app icon, which is pretty cool
.
The parallax effect is observable throughout iOS 7
.
Apple designed the new iOS on independent layers - background, homescreen icons, icon badges, and then app pop-ups
.
The iPhone then uses its accelerometer and gyroscope to move layers independently and create an illusion of depth
.
The movement is very subtle
.
In fact, you might not even notice it if you are not looking for it, but it's there and it looks awesome once you start moving your device
.
The parallax effect is not only available on the homescreen
.
You can see it in folders and in the pop ups that ask you for passwords or display notifications
.
Those pop ups by the way are also translucent and adapt their background color
.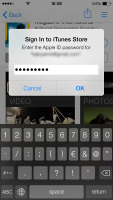 A system pop-up
In case you don't like the parallax effect you can turn it off from the Accessibility settings
.
Apple iOS 7 brings live wallpapers
.
You can find them in the relevant section of the Wallpaper Settings
.
Currently there are seven live wallpapers but there is no wallpaper section available in the App Store
.
It seems we'll have to rely on Apple for adding more
.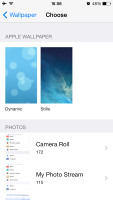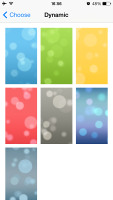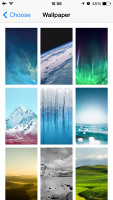 Wallpaper settings • Dynamic wallpapers • Still wallpapers
You might have noticed in all these screenshots that Apple has ditched the cellular coverage bars and replaced them with five dots
.
The battery also got a new icon.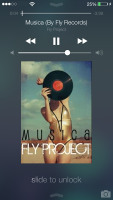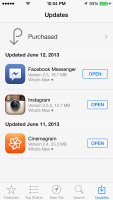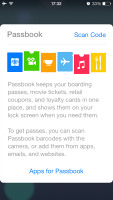 Three out of five dots for signal strength and the new battery icon
Apple decided not to follow the competition and put the connectivity toggles in the notification area
.
They're in a brand new Control Center instead, that's pulled up with a swipe from the bottom of the screen
.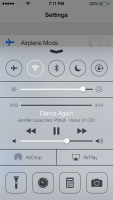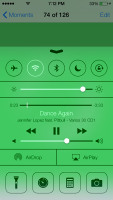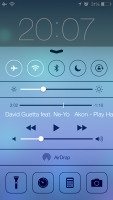 The Control Center
It has five non-customizable rows for various shortcuts
.
The top row has five toggles - Airplane, Wi-Fi, Bluetooth, DND mode and Rotation Lock
.
The second row has the brightness slider. Next come the media player controls including a volume bar
.
The fourth row has AirDrop and AirPlay shortcuts. Finally, at the bottom of the Control Center there are four shortcuts - one that turns on/off the LED flash to serve as a flashlight and three app shortcuts - Clock, Calculator and Camera
.
The volume slider is perhaps a bit redundant but nothing in the Control Center is customizable
.
It's a great, albeit well overdue, addition.
The Notification Center has been redesigned as well
.
It now has three tabs - Today, All and Missed. The Today tab has the date, a summary of all events for the day, calendar day view, reminders, stocks and tomorrow's summary
.
As usual, you can choose which apps you want to show up in the pull-down Notifications and in what order
.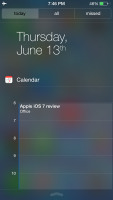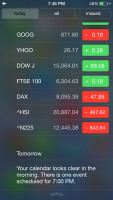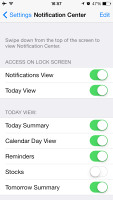 Today tab • Settings
The Today tab is customizable, and you can disable its elements one by one - everything but the date displayed at the top can be removed so it doesn't get in the way
.
You can even disable the Today tab altogether in the Notification Center for the lockscreen
.
The All tab is basically the notification center from iOS 6 but sans the weather, stocks and calendar events
.
The first two are now part of the Today tab, while the weather is gone for good
.
You can disable the All tab for the lockscreen as well (just turn off Notifications View)
.
If both Notifications (All) and Today tabs are disabled, the entire Notification Center will no longer be available on the lockscreen
.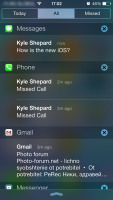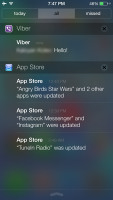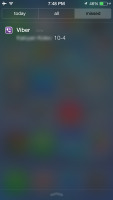 The All tab • The Missed tab
The Missed tab displays new emails, messages and missed calls you received while your iPhone 5s was locked
.
Those notifications are still available in the All tab
.
Other than that, the handling of notifications hasn't changed a bit
.
You can opt to disable a notification, set it to be a banner, which will shortly pop up over the status bar or an alert showing up at the center of the screen
.
There are also options to disable badges on app icons or disable lockscreen notifications
.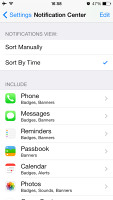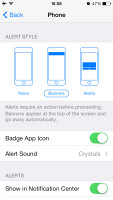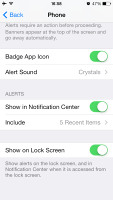 Notifications
As before, you can interact with notifications straight on the lockscreen
.
If a notification has just arrived, sliding to unlock will open up the relevant app - upon a missed call, you'll go straight to the phone app
.
You can also swipe a notification to perform a task - swipe to call back or text
.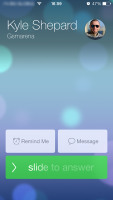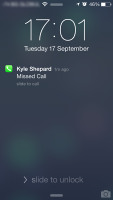 Lockscreen notifications
The banner notification is very subtle
.
If you receive a text in the middle of something, it will briefly pop up over the status bar and disappear in a couple of seconds, and not distract from what you're doing
.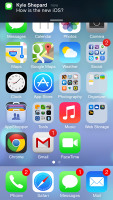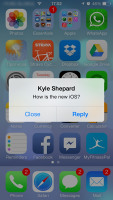 Homescreen notifications
Do Not Disturb is, as expected, still an integral part of iOS 7
.
It gives users further control of notifications, or rather their suppression
.
If turned on, it will mute incoming calls or alerts
.
You can allow calls from your favorite contacts and have the option to set a specific time interval in which you won't get any notifications
.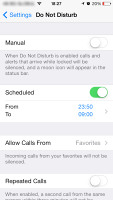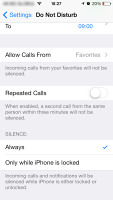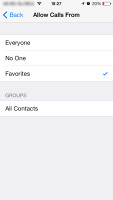 Do Not Disturb mode settings
There's a dedicated toggle to activate the DND feature and it can be customized in the Notifications submenu
.
When Do Not Disturb is on, a crescent icon appears next to the clock in the status bar
.
According to Apple, iOS 7 offers multi-tasking for all apps
.
Previously true multi-tasking was reserved only for navigation or music streaming apps, the rest had to go in suspend mode
.
Now, this multi-tasking for all apps will surely drain the battery faster than Apple would have liked, so there is a catch
.
Yes, all apps will work in the background, but iOS will learn which one of them you use most often and when
.
Let's say you open the Facebook app every morning and don't use it for the rest of the day
.
iOS will soon learn that and will optimize the app to work according to your schedule until you change it
.
This means most of the day and night the app will still be in suspend mode (push notifications will work of course), but iOS will run Facebook shortly before your alarm goes on and load all the content
.
That way when you open it, your news feed will be already updated
.
We noticed that apps also update in the background when push notifications come in
.
This is a part of what Apple calls opportunistic updates - the iPhone waits until a data connection is available and starts the updates then, so it doesn't need to activate the connection on another occasion and waste your battery
.
We haven't spent enough time with iOS to give a proper judgment on how well the new multitasking works, but once we do we'll duly update this section
.
All apps that use Cellular/Wi-Fi connection and can work in the background are listed under Settings -> General -> Background App refresh
.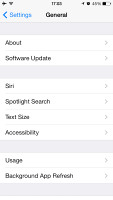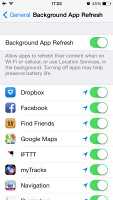 Background App refresh
The task-switcher interface is invoked with a double tap on the Home key
.
It looks a lot like the webOS cards of old and, more recently, the HTC Sense Task switcher - all apps are presented with cards that you can swipe up to close
.
Each card has the respective app icon so you can easily recognize what's what
.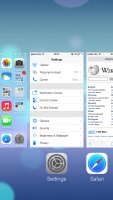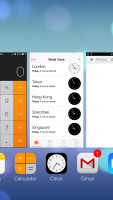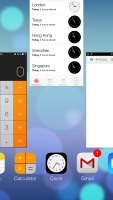 Multitasking in action
The multitasking UI works in both portrait and landscape mode, but you cannot see more than three cards at a time
.
It's one of the limitations of the card interface and we suspect this is why HTC went for a different task switcher with the One, but here's hoping that Apple will at least fix the landscape mode down the line
.
The iOS 7 Settings menu has the same layout as in previous versions but updated with the new flat and borderless look
.
Besides the Background App Refresh, iOS 7 offers even better control over the apps that use mobile data
.
The Cellular tab offers detailed cellular data breakdown by apps and services, allowing you to properly manage your resources
.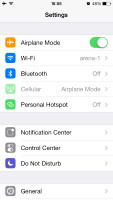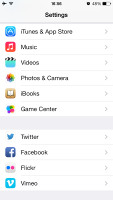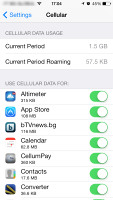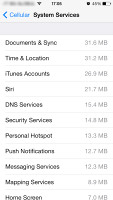 Settings • Cellular Data settings
Another thing worth mentioning is the Vimeo and Flickr integration in addition to Twitter and Facebook
.
Once you enter your account details in the settings you can upload your photos straight to your Flickr gallery, while your videos will go to your Vimeo
.
You just need to hit the share key on a picture or a video and use the dedicated Flickr/Vimeo icon
.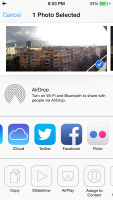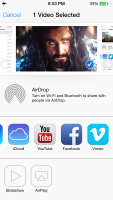 Sharing on Flickr and Vimeo
The last major change about the user interface is the Back gesture available in all iOS 7 default apps (maybe developers will be able to extend the support to third-party apps after launch)
.
Whether you are in settings, App Store, Messages, Notes, Reminders, Safari, etc
.
a swipe from the left side of the screen will take you one step back
.
Arguably the coolest novelty feature of the Apple iPhone 5s is TouchID
.
It's a fingerprint scanner that's placed right below a piece of sapphire glass covering the Home button
.
When you touch your finger against the Home button the sensor will take multiple 500ppi images of your fingerprint, to be processed by the A7 chip and get your iPhone 5s unlocked
.
Long story short, it is impressively quick and perfectly accurate
.
The TouchID sensor offers 360-degree readability translating into effortless scanning of your fingerprint
.
Apple has integrated TouchID as an added security measure, but it'll still allow you to use your passcode as a backup form of validation
.
Enabling passcode is also a mandatory requirement in order to use TouchID
.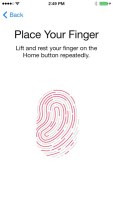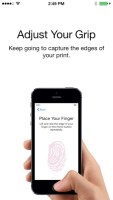 Setting up TouchID
Setting it up is as easy as using it on a daily basis
.
To get started you have to hold your finger on the Home button until you feel a short vibration
.
Then, continue to touch and lift your finger whilst making small adjustments to the position of your finger each time
.
The second step is to hold your iPhone 5s as you normally would and touch the Home button again so that the outer edges of your fingerprint get scanned as well
.
This will make sure your entie fingerprint gets mapped
.
Apple says that the more you use TouchID the better it'll get
.
You can commit up to five fingerprint samples (yours or those of family and friends), which is cool for setting a limited list of people with access to your device
.
Apple warns that with all five fingerprint slots filled in, the TouchID sensor operation may take a slight performance hit, but we didn't notice any such delays
.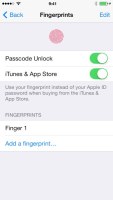 TouchID settings menu
TouchID can be used for more than just unlocking your phone
.
Apple has integrated the feature into the digital goods purchasing experience
.
You can use TouchID for making authorizations in the App Store, iTunes Store as well as iBooks Store
.
You can decide which one of them has access to the TouchID sensor in the Fingerprints settings menu
.
However, if you've set the Require Password option to Immediately, then TouchID will be disabled for purchases
.
What bothers us quite a bit is that despite the flawless hardware implementation (the best we have seen so far), Apple hasn't paid enough attention to the software backend of the TouchID feature
.
It would have made the perfect tool for enabling seamless multi-user access with different security levels or, if that's too much to ask, at least introduce different user preferences for the different fingerprints you have
.
If you could assign different permissions to individual users, you could for example share you iPhone 5s with your kids safe in the knowledge that they can unlock it, but not max out your credit on apps
.
A feature that allows multiple user profiles depending on the fingerprint that unlocked the phone also springs to mind and whatnot
.
Third-party developers are also locked out of TouchID for now so authorization of any purchases outside the Apple stores are a no-go
.
Here's hoping that Apple's R&D team gets down to work and unlock the great potential that TouchID undoubtedly carries as quickly as possible
.
Waiting another year for iOS 8 is simply not going to cut it and it might be way too late at that point anyway
.
Performance
Apple has designed an entirely new chipset to drive the iPhone 5s
.
It's called the A7 and is the company's first 64-bit mobile system-on-a-chip
.
According to the gurus at Cupertino, it's twice as fast as the A6 that it replaces in terms of both CPU and GPU power
.
We'll find out if that's true in just a second
.
Before that, we should mention that the Apple A7 28-nm chip is comprised of a 1
.
3GHz dual-core CPU dubbed Cyclone which uses ARM's ARMv8 microarchitecture
.
The GPU, while not officially confirmed, is believed to be the PowerVR G6430
.
The use of a 64-bit instruction set for the CPU enables Apple to put more than 4GB of RAM on its future generation of products, but the iPhone 5s packs just 1GB
.
Not that this feels insufficient - the way iOS handles multi-tasking you are extremely unlikely to run out of operating memory
.
Moving on to actual benchmarks we start with the new Geekbech 3 test to see how the CPU and memory are doing
.
The iPhone 5s blasted through the test managing the promised double score over the iPhone 5 and iPhone 5c with A6 chips inside them
.
As you can see Apple A7 is a good match for the quad-core Snapdragon 800 chipsets, too, placing itself right behind the Sony Xperia Z1
.
Geekbench 3
Higher is better
Sony Xperia Z Ultra
2670
Sony Xperia Z1
2638
Apple iPhone 5s
2561
LG G2
2243
HTC One
1972
Samsung Galaxy S4 (S600)
1869
LG Optimus G
1623
Huawei Ascend P6
1315
Apple iPhone 5
1296
LG Nexus 4
1288
Apple iPhone 5c
1280
HTC Butterfly
1257
Oppo R819
1047
HTC One mini
887
We also ran the iOS version of Linpack
.
Once again, the iPhone 5s delivers on the promise of twice the performance of the iPhone 5c and iPhone 5
.
Linpack
Higher is better
Apple iPhone 5s
970
Apple iPhone 5
546
Apple iPhone 5c
532
Now, it's time for the multi-platform GFX Benchmark that gives the GPU a run for its money
.
The iPhone 5s scores a few frames per second less than the Adreno 330 GPU found in the Snapdragon 800 chipset of the Xperia Z1, which is still a great result
.
In the T-Rex portion of the test the iPhone 5s managed to get even with the current batch of Android flagships
.
GLBenchmark 2.5 Egypt (1080p off-screen )
Higher is better
Sony Xperia Z1
60
Sony Xperia Z Ultra
60
Apple iPhone 5s
56
LG G2
54
Samsung Galaxy S4 (Octa)
43
HTC Butterfly S
42
Samsung Galaxy S4 (S600)
41
Samsung Galaxy S4 Active
41
HTC One
37
Oppo Find 5
32
Google Nexus 4
32
Sony Xperia Z
31
Sony Xperia ZL
31
Sony Xperia SP
31
Apple iPhone 5
30
LG Optimus G Pro
30
Apple iPhone 5c
29
Apple iPhone 5
29
LG Optimus G
21
Samsung Galaxy Mega 6.3
17
Samsung Galaxy S4 mini
17
Samsung Galaxy Note II
17
HTC One mini
15
HTC One X
11
GLBenchmark 2.7 T-Rex (1080p off-screen )
Higher is better
Apple iPhone 5s
23
Sony Xperia Z1
23
Sony Xperia Z Ultra
23
LG G2
22
Samsung Galaxy S4 (S600)
17.1
Samsung Galaxy S4 (Octa)
17.1
Apple iPad 4
16.8
HTC Butterfly S
16
Samsung Galaxy S4 Active
16
Google Nexus 10
13.9
LG Optimus G
13.9
Sony Xperia Z
13.5
Sony Xperia Tablet Z
13
Sony Xperia ZL
12.8
Apple iPhone 5c
6.9
Apple iPhone 5
6.9
Samsung Galaxy S4 mini
6.4
Samsung Galaxy Mega 6.3
6.3
HTC One mini
5.6
Samsung Galaxy Note II
4.9
Finally, we put the iPhone 5s through the SunSpider and BrowerMark benchmarks to test Safari's JavaScript and overall browsing performance
.
The iPhone 5s with its new iOS 7 operating system claimed the top spots and sits comfortably above the iPhone 5 and iPhone 5c in both charts
.
Clearly, Apple has put special attention into the web browsing performance and with the single-core nature of those test not making the A6 and A7 pay for their shortage of cores, its smartphones really shined
.
SunSpider
Lower is better
Apple iPhone 5s
403
Apple iPhone 5
694
Apple iPhone 5c
704
Sony Xperia Z Ultra
750
Sony Xperia Z1
845
LG G2
908
Samsung Galaxy S4 (S600)
1046
HTC One
1174
LG Optimus G
1293
HTC One mini
1375
LG Nexus 4
1379
HTC Butterfly
1397
Oppo R819
1423
Huawei Ascend P6
3858
BrowserMark 2
Higher is better
Apple iPhone 5s
3549
Apple iPhone 5
2825
Apple iPhone 5c
2799
LG G2
2718
LG Optimus G
2555
Samsung Galaxy S4 (S600)
2438
Sony Xperia Z Ultra
2419
Sony Xperia Z1
2398
HTC Butterfly S
2378
Samsung Galaxy S4 Active
2338
Samsung Galaxy S4 mini
2314
HTC One
2262
Sony Xperia Tablet Z
2170
HTC One mini
2164
Sony Xperia ZL
2107
Sony Xperia Z
2093
LG Optimus G Pro
1801
Oppo Find 5
1797
Nexus 4
1794
Nokia Lumia 920
1774
Google Nexus 10
1773
HTC Butterfly
1475
Samsung Galaxy S III
1247
As we saw, the iPhone 5s performs excellently in synthetic benchmark tests
.
This remarkable performance translates into hiccup-free iOS 7 operation as well
.
Everything from navigating around the OS to opening apps is instantaneous and without a hint of lag
.
Great phonebook
The phonebook has been updated with the new iOS borderless look and simple color scheme
.
The logic behind the phonebook app is completely the same though, there is just one new feature - Blacklist
.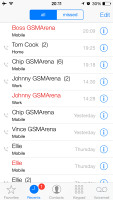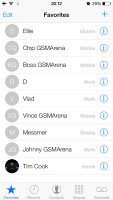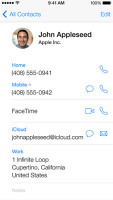 The phonebook • the dialer
You can either add contacts to the blacklist from the Settings menu, or you can simply go to a contact and hit Block this Caller key at the bottom
.
Once blocked you will no longer receive calls, FaceTime and messages (SMS, MMS, iMessages, emails) from this contact
.
You can of course unblock them at any time
.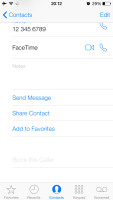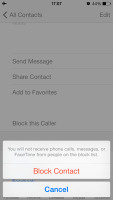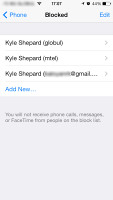 Blocking a contact • The Blacklist is in Settings -> Phone
As usual the phonebook offers Facebook and Twitter integration
.
After you set up your accounts the phonebook will automatically ask you to link your existing contacts with their social ones (if available)
.
The phonebook can search via the dedicated Search field at the top of the list of contacts or you can use the alphabetical scroll at the right
.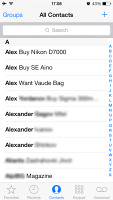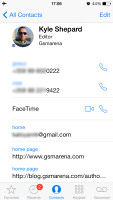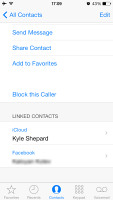 The Phonebook search field • viewing a single contact
Editing a contact is intuitive and gives you the option to include lots of additional fields, like several addresses, related people, web, email, birthdays, etc
.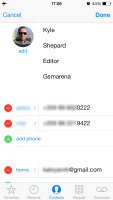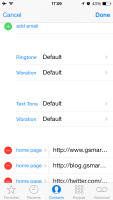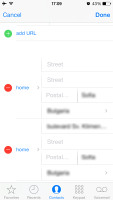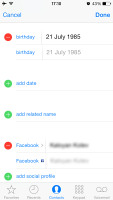 Editing a contact
You can set different ringtones, message tones and vibration to your favorite contacts
.
Since iOS 6 your iMessage and FaceTime ID is joined and the phonebook will automatically detect if either service is available with each contact
.
Simple telephony
The iPhone 5s has very good reception and doesn't suffer from any issues with the embedded antennas
.
The in-call quality is great as well - this is where the multi-mic setup works quite splendidly
.
The incoming call and in-call screens have gone flat too
.
The dialpad itself looks different, though it brings no new usability features
.
Smart dial is sadly, still missing.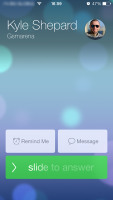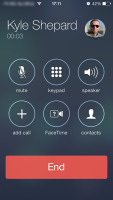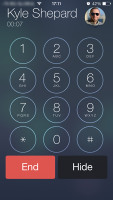 The incoming call screen • the in-call screen
You can reject calls via SMS since the last iOS update
.
You can set the iPhone 5s to remind you to call back a person at a location or when you're leaving the current one, which is a nifty trick
.
Keep in mind that doing so will invoke constant use of GPS, which could in turn lead to a significantly reduced battery life but the phone would probably still last a day
.
FaceTime comes as a system app in iOS 7 and looks just like the Phone app
.
It works both over a cellular data or Wi-Fi. The service now offers voice calls too, in addition to video conference
.
With FaceTime audio calls and iMessages, iOS users won't need Viber as much to connect with other iOS users free of charge
.
As usual we've tested the loudspeaker performance of the new iPhone 5s
.
It marks a slight improvement over the speaker of its predecessor and scored an Average mark
.
This means you should be able to hear the phone in semi-noisy environments, but to ensure not to miss any calls, we advise you to turn vibration on
.
| | | | | |
| --- | --- | --- | --- | --- |
| Speakerphone test | Voice, dB | Pink noise/ Music, dB | Ringing phone, dB | Overal score |
| Sony Xperia Z | 60.1 | 58.3 | 61.6 | Below Average |
| LG G2 | 65.7 | 62.2 | 66.2 | Below Average |
| Apple iPhone 5c | 66.5 | 65.5 | 66.2 | Below Average |
| Apple iPhone 5 | 66.8 | 66.1 | 67.7 | Below Average |
| Apple iPhone 5s | 68.7 | 66.3 | 69.2 | Average |
| Samsung Galaxy S4 mini | 66.3 | 64.8 | 75.1 | Average |
| HTC One | 69.3 | 66.6 | 75.9 | Good |
| HTC One mini | 68.0 | 68.7 | 78.1 | Good< |
| Samsung I9505 Galaxy S4 | 70.6 | 66.2 | 77.3 | Good |
| Samsung Galaxy S4 Active | 72.7 | 66.6 | 78.1 | Good |
| LG Optimus G | 74.6 | 71.3 | 82.7 | Excellent |
New looks for the messaging department
The Messages app also gets the new iOS skin
.
It adds a new option in the conversation view - Contact
.
If you tap on this key, you'll get options to Call and FaceTime that user, or go to their phonebook profile
.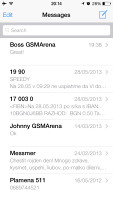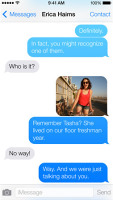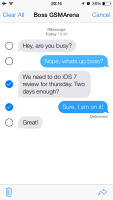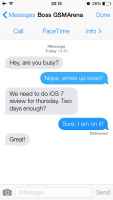 The Messages app
The iMessage service lets you exchange instant messages between iOS 5 or later running iGadgets over Wi-Fi or 3G
.
You can send plain text as well as multimedia (pictures, sounds, videos) messages
.
The iMessage conversations are color-coded to differ from the standard SMS/MMS - their bubbles are blue instead of green
.
A cool thing about them is that each conversation is synced with the iCloud so you'll have it right there and available on all your iDevices, including your Mac (although synchroniszation is not flawless and the time stamps would get messed up at times)
.
The rest is pretty simple - you type, you add content (optional) and hit send
.
Adding multimedia is done either by hitting the small picture icon next to the text field or through the sharing menu in the gallery or supported apps (Voice Memos, Notes, etc
.
)
.
The default Mail client has the new looks but the functionality is unchanged
.
VIP lists are available - emails from people on the list will be delivered to a dedicated VIP mailbox and will appear highlighted in the regular inbox
.
You can also set a different notification regime for VIP emails - so they appear on the lockscreen, for example
.
You can also flag important emails
.
After you flag your first message, a new Flagged mailbox will appear gathering all of your flagged emails
.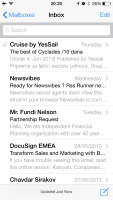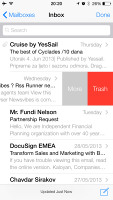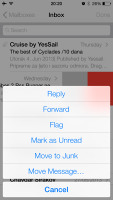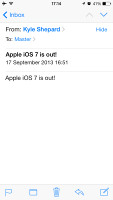 The Mail app
Attaching pictures and videos while composing an email is possible since the iOS 6 - just tap and hold on an empty space and use the popup menu
.
Bold, Italic and Underline font styles are available in the text editing options, as well as quote font size levels
.
Text selection works the usual way (tap&hold and select) and the available options will appear as soon you've made the selection: Cut/Copy/Replace/Bold Italic Underline/Quote Level
.
Quote Level will increase / decrease the quote symbols before the text you're quoting
.
Finally there is a built-in dictionary
.
It's very rich in content and conveniently works offline
.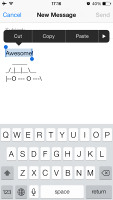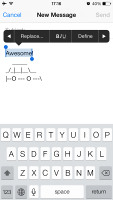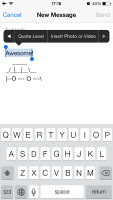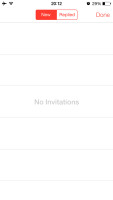 Email text options • Built-in Dictionary
Completely redesigned Photos app
The Photos app has been redesigned more thoroughly
.
To begin with, the Photos tab looks better organized
.
Prior to iOS 7 we used to get a grid of all of photos there, sorted by date
.
Images are now organized by date and location, for those that have been geo-tagged
.
This view is called Moments, with a description always at the top, with time, place and date
.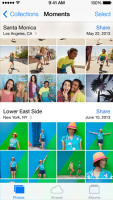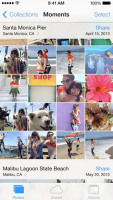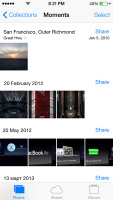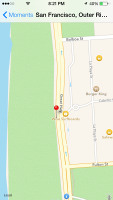 Moments view • Taping on a place label will take you to the map
The Moments view offers multiple photos selection - you can select an entire folder with just a single tap
.
Mass Delete, Share (including AirDrop) and Add To Album options are available
.
You can go a step back, to Collections view where you can better view your sorted photos into groups with labels and much smaller thumbs
.
Those thumbs are still clickable, you can even scroll them to find the one you're looking for (small thumbs are hard to navigate through though)
.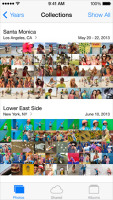 Collections view
A tap on a city label in Moments or Collections will take you to the old Places view, where you get a map with pins showing where exactly your photos were taken
.
Finally, there is the Year view
.
It squeezes your collection into tight grids for each year
.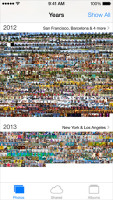 Year view
The second tab is Shared photos - it has all your Photo streams. Photo Stream, which acts like a social sub-network, works really well and is very simple to set up
.
You choose what pictures to share and which people to share with
.
Your buddies on the receiving end will be able to like them and post comments
.
You can invite users you want to share your Photo Streams with via email or get invited
.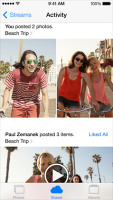 Shared photo streams
Finally, the third tab is albums. You get three default album types - camera roll, my photo stream and panoramas
.
Albums can be added, edited and deleted.
Images are displayed in full size and you can delete, share or edit them
.
From the sharing menu you also get advanced options such as copy, assign to contact, slideshow, print, use as wallpaper and AirPlay
.
You can AirDrop multiple pictures from this interface as well
.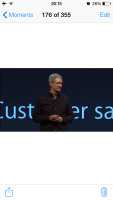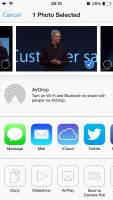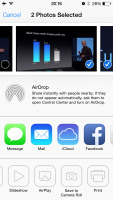 Viewing a single image • sharing options
The photo editor is the same as before with a new option to add filters
.
It supports rotation, cropping, filters and red-eye removal
.
There's also an Enhance option too. In Edit mode five keys appear at the bottom for the available editing options
.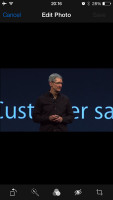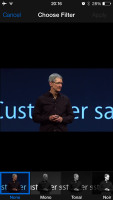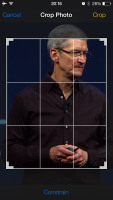 The image editor
Every new iPhone 5s offers you iPhoto and iMovie powerful Apple apps for free
.
The iPhoto allows you also to organize your photos by albums and events and you can even create journals - collages of photos you can share via iCould and make it visible to anyone
.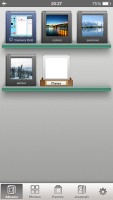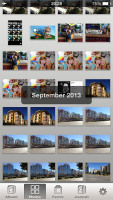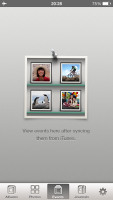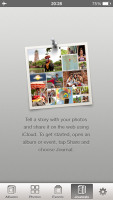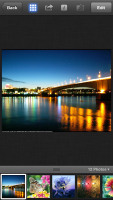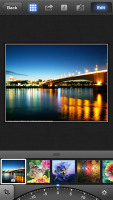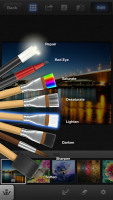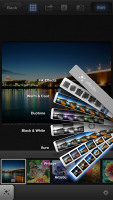 iPhoto
The iPhoto app has richer editing options than the standard gallery, but its UI needs to be updated to match the iOS 7 looks
.
Not it just looks ..
.
retro.
Finally, the powerful iMovie editor is available for free as well, you just need to download it once you sign in on the AppStore
.
You can make your own movies and trailers by adding, cutting, merging, etc
.
videos, songs and pictures. The app is nicely functional and performs excellently on the A7 chipset
.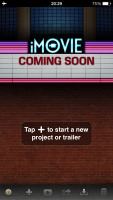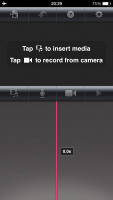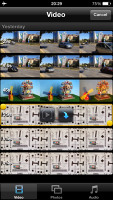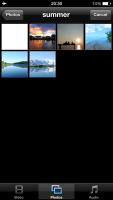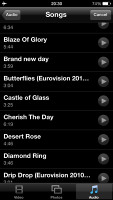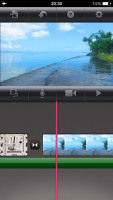 iMovie
Limited video player
Many things have changed in iOS 7 but the video player is definitely not one of them
.
You can upload only supported formats via iTunes or purchase videos from the iTunes store
.
This is an extremely disappointing showing by a platform that is supposed to excel at multimedia consumption
.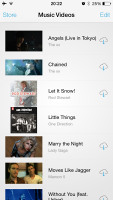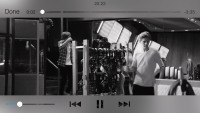 The video player
The lack of extra functionality is bad enough, but having to use just an extremely limited number of media format or resorting to converting files, which is both slow and inconvenient is a real deal-breaker
.
Music and iTunes Radio
The iOS 7 music player is exactly the same as the one in iOS 6, its appearance is in line with the new iOS design
.
You can create playlists, delete songs right from within the player and reorder tabs whichever way you like
.
Cover Flow is gone for good replaced by the new Album view - you access it by flipping the device landscape
.
It lists all the covers to the albums you have in your library
.
Tapping on an album thumb lists all the tracks in it
.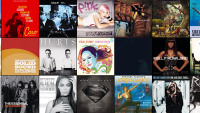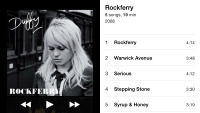 Album view
The Now Playing screen hasn't changed in functionality neither is the settings
.
Even in its seventh major iteration iOS still fails to offer configurable equalizers
.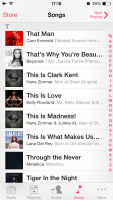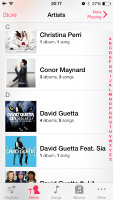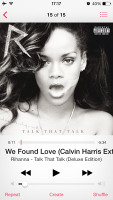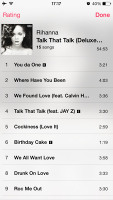 Music player
If you live in the US (the service will roll out in more countries soon), your iOS 7 music player will get an additional iTunes Radio tab
.
It's a music streaming service with the entire iTunes content available for streaming
.
The stations are divided by genres, but once you add a station, you can choose to remove artists or add more songs from an artist/group
.
You can preview a station before adding it to your list
.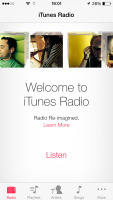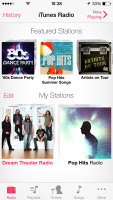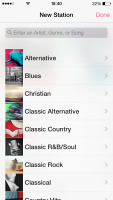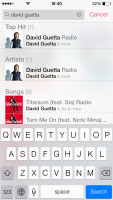 iTunes Radio
In case you like a particular song, you can buy it with just one tap
.
History is available and you can always return to buy songs later
.
A Wish List is available as well.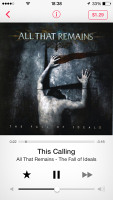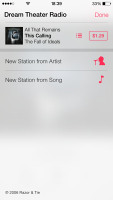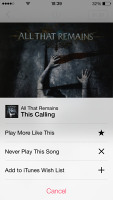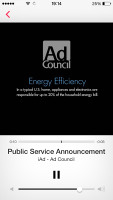 iTunes Radio Now Playing UI • Playing ads
iTunes Radio is ad-free if you are using iTunes Match
.
Otherwise, every 7 to 10 songs are broken by about 15sec of commercials
.
Flagship-worthy audio output
Apple smartphones have never disappointed when it comes to audio quality and the iPhone 5s makes no exception
.
In the active external amplifier part of the test, the iPhone 5s did perfectly and even outdid the iPhone 5c with lower stereo crosstalk
.
Its volume levels were just as high as on the 5c, which makes them one of the best in business, second only to the HTC One and Butterfly
.
The second trial produced equally impressive scores
.
The iPhone 5s again managed to beat its lower-tier brother by the virtue of its better stereo and was overall as close to perfect as it gets
.
Check out the numbers and see for yourselves
.
| | | | | | | |
| --- | --- | --- | --- | --- | --- | --- |
| Test | Frequency response | Noise level | Dynamic range | THD | IMD + Noise | Stereo crosstalk |
| Apple iPhone 5s | +0.02, -0.05 | -93.6 | 93.7 | 0.0013 | 0.0068 | -90.3 |
| Apple iPhone 5s (headphones attached) | +0.12, -0.00 | -93.4 | 93.3 | 0.0016 | 0.060 | -76.1 |
| Apple iPhone 5c | +0.01, -0.04 | -93.9 | 93.8 | 0.0013 | 0.0066 | -80.3 |
| Apple iPhone 5c (headphones attached) | +0.02, -0.07 | -93.7 | 93.7 | 0.0016 | 0.052 | -61.7 |
| Apple iPhone 5 | +0.06, -0.51 | -91.3 | 91.3 | 0.0015 | 0.0093 | -76.5 |
| Apple iPhone 5 (headphones attached) | +0.00, -0.26 | -90.6 | 90.6 | 0.0035 | 0.111 | -56.2 |
| LG G2 | +0.03, -0.28 | -91.9 | 91.9 | 0.0097 | 0.011 | -91.3 |
| LG G2 (headphones attached) | +0.07, -0.03 | -91.5 | 91.8 | 0.037 | 0.041 | -54.3 |
| HTC One | +0.11, -0.14 | -92.4 | 91.2 | 0.0012 | 0.013 | -92.4 |
| HTC One (headphones attached) | +0.16, -0.07 | -92.1 | 90.9 | 0.014 | 0.055 | -70.8 |
| Samsung Galaxy S4 | +0.03, -0.08 | -95.9 | 93.2 | 0.0030 | 0.0092 | -96.4 |
| Samsung Galaxy S4 (headphones attached) | +0.03, -0.08 | -96.0 | 93.3 | 0.0031 | 0.089 | -95.5 |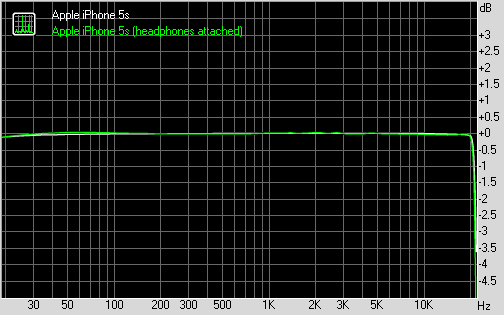 Apple iPhone 5s frequency response