The
Apple iPhone 6
is hardly the best kept secret in the world with rumors about the
upcoming flooding the internet lately. And while we have already accepted the fact that the Cupertino giant's security measures aren't what they once were, it's still interesting to see a high-profile leak
such as this one.
China Telecom, one of the Apple's largest partners, jumped the gun and announced the iPhone 6 through its official Weibo account. The posthas since been deleted, but the delay was still enough for it to be copied and shared all over the web.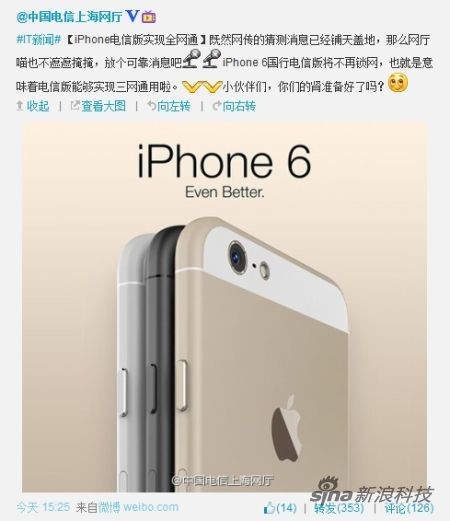 The post gave us a photo of the Apple iPhone 6 in its three color versions, along with a few bits about its cellular specifications. The smartphone will be available unlocked and will support LTE, 3G, CDMA and GSM networks. China Telecom didn't sell unlocked iPhones until now, so that's going to be a first for the carrier.
The Apple event that should see the iPhone 6 make its debut is scheduled for September 9 so there's not long left until we find out all about the upcoming smartphone.
Source
|
Via
- GSMArena.com news