The
Week In Review
is our series meant to recap all the major
announcements of the week, which you might have missed. Week 33 saw a
lot of rumors, event schedules and a few smartphone announcements.
As the month of September nears, Apple, Samsung, Motorola and pretty
much every phone manufacturer readies their upcoming products. The
iPhone 6 was leaked again by Spigen case company, while Samsung
announced the Galaxy Alpha metal smartphone while teasing Galaxy Note 4.
To top it all off, the Nexus 6 revealed its Snapdragon 805 heart,
while Motorola sets to unveil the Moto 360, Moto G+1 and the Moto X+1.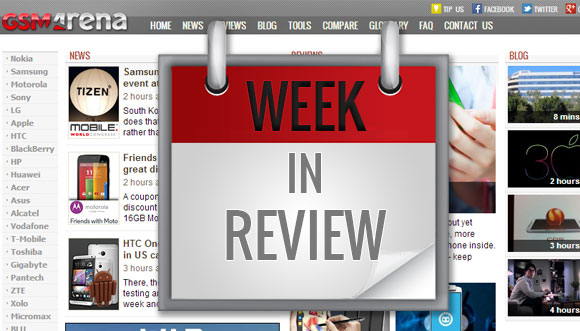 The Motorola Shamu will not be opting for a Snapdragon 801 chip with
Adreno 330 but rather the next big thing from Qualcomm - a Snapdragon
805 chipset with a quad-core Krait 450 processor working at 2,65GHz, 3GB
of RAM and the Adreno 420 GPU. AnTuTu's database has the device under
the name Google shamu, which seems to...
The premium device has a metal frame exposed on the sides and a faux
leather back similar to the Galaxy S5. The Galaxy Alpha is a preemptive
strike against a bigger iPhone, it measures just 6.7mm thick and weighs
115g. It's other dimensions are 132.4 x 65.5, comparable to those of the
Galaxy S5 mini. The Alpha flagship packs a larger...
If IFA 2014's schedule didn't seem packed enough for you, Motorola
has decided to make one of its biggest announcement in recent history on
September 4. The company has sent out press invites and the hints are
very clear. We're in for the announcement of the Moto 360 smartwatch, as
well as the Moto G 2 and Moto X+1 smartphone duo...
- GSMArena.com news