Introduction
Nexus phone releases are timed to let Google have the last word - and what a way to have it
!
A phone that matches any flagship on specs and premieres the latest OS version, but costs barely half as much as some of them
.
The Nexus 5 promises a great finale to yet another exciting smartphone season and it's not only the droids that stand to attention
.
This could have been a deja-vu moment for everybody but the fifth gen Google phone will probably have to work harder than ever
.
There's already a bunch of Snapdragon-800-powered Android flagships, while Qualcomm's latest is ticking inside Windows Phone-powered devices by Nokia too and Apple has the new 64-bit A7 chipset
.
On a second thought, Nexus phones have never been too keen on getting into the skirmish, keeping their distance, aloof and somewhat out of touch, nothing to prove to anyone
.
The best of Google on your homescreen - that's what it's all about - and at a price that's almost too good to be true
.
Nexus 5 official photos
The search giant is partnering with LG for a second year in a row
.
Whether the Koreans are offering the best production cost or both sides were happy with the Nexus 4, it's a choice we don't mind at all
.
Anyway, Android 4.4 KitKat on a five-inch full-HD screen, powered by a Snapdragon 800 is a package no one would say not to
.
Check out the key specs to see what we're on about
.
Key features
Quad-band GSM/GPRS/EDGE support
Quad-band 3G with HSPA; Penta-band LTE cat3
4

.

95" 16M-color 1080p True HD IPS Plus FullHD capacitive touchscreen
Corning Gorilla Glass 3 display protection
Android OS v4

.

4 KitKat
Quad-core 2.3 GHz Krait 400 CPU, 2 GB RAM, Adreno 330 GPU, Qualcomm Snapdragon 800 chipset
8MP autofocus camera with LED flash, geotagging, optical image stabilization, photo sphere, 1080p video recording @ 30fps with continuous autofocus and stereo sound; HDR mode, Dual recording, optical image stabilization
2

.

1 MP front-facing camera, 1080p video recording
16GB/32GB of built-in storage
microUSB port, USB host support, USB on-the-go, SlimPort TV-out
Bluetooth v4

.

0
Wi-Fi a/b/g/n/ac, Wi-Fi Direct and DLNA
GPS with A-GPS, GLONASS
Standard 3

.

5 mm audio jack
Voice commands
Accelerometer and proximity sensor
Active noise cancellation with dedicated mic
2300mAh Li-Po battery, wireless charging
Main disadvantages
Non-expandable memory
Poor video and audio codec support out of box
Short battery life, non user-replaceable battery
Poor loudspeaker performance
Limited availability
Although there's almost no physical resemblance to back it up, the Nexus 5 is based on the LG G2 and that's not a coincidence
.
The Nexus 4 last year was based on the Optimus G, so history's clearly repeating itself
.
At least as far as what's under the hood.
Otherwise, the Nexus 5 has one of the most understated exterior designs a flagship smartphone has ever had
.
It's not an attention-grabber like the iPhone 5s, the HTC One or the Xperia Z1, as if wanting to underline that what matters is inside
.
Google Nexus 5 live photos
The latest major release of Android as usual premieres on a new Nexus phone
.
The Nexus 5 runs Android 4.4 KitKat, which brings even tighter OS integration with Google services
.
There are a number of other improvements and hints at what's to come
.
But before we get to that, we'll focus on the Nexus 5's build and finish
.
The Android 4.4. KitKat overview will follow right after, so without further ado, see you after the break
.
Unboxing the Nexus 5
Trying to keep the price in check, the Nexus series of smartphones have never flaunted exceptional packaging bundles
.
Google has always included only the bare minimum of accessories and the Nexus 5 is no exception
.
So the box of the Nexus 5, while being quite stylish, doesn't hold much
.
The retail packaging of the LG Nexus 5
Inside it, there's just a SIM ejector pin, AC adaptor and a microUSB cable
.
Traditionally, headphones aren't included in the retail package, let alone some fancy accessories
.
LG Nexus 5 360-degree view
The LG Nexus 5 is as compact as 5" smartphones get right now
.
It measures 137
.
9 x 69.2 x 8.6 mm, which is just a hair thinner and narrower than the LG G2 that it's based on
.
Compared to the Nexus 4, it's half a millimeter thinner and 9 grams lighter
.
With a weight of just 130 grams it's lighter than the LG G2, as well
.
In fact, it weighs the same as the Samsung Galaxy S4 and has about the same footprint as the Samsung flagship
.
This is achieved thanks to the choice of lighter materials as well as reduction in the battery size
.
The LG G2 boasts a 3000mAh battery, while the Nexus 5 packs just 2300mAh one
.
We'll cover the battery in a greater detail later on
.
Design and build quality
Now, let's focus on the design of the Nexus 5
.
Right off the bat, it's apparent that this is not just a copy/paste affair and the Google purebred is quite different from LG G2
.
First and foremost, the Nexus 5 is built around a 5" True HD IPS display, which is responsible for the phone's smaller footprint compared to the G2
.
However the difference is smaller than the size difference suggests as the bezels surrounding it aren't quite as thin as they're on the G2
.
Overall, the design is quite simplistic and underplayed with nice matte finish
.
The Nexus 5 is a decent looking bloke and even if it won't win any design contests, its looks certainly won't be held against it
.
The Nexus 5 matte plastic looks nice and feels great to touch
The whole body of the phone is made of a soft-touch plastic, quite similar to the one on the back of the Google Nexus 7 2013 slate
.
It's actually great to the touch and to our joy is quite resistant to fingerprints and smudges
.
Despite not flaunting a metal-clad body, the Nexus 5 is very sturdy
.
The plastic shell didn't creak nor give in to pressure and twists
.
It certainly holds up better than the glass back of the Nexus 4, too
.
Speaking of the back, the battery cover of the Nexus 5 isn't removable in spite of the cutout lines that separate the front and back parts of the phone
.
They would let you think that you can access the battery of the phone, but that's not the case
.
Another notable design feature at the back is the 8MP camera sensor, which has been made a lot more prominent than on the Nexus 4
.
It's protected by a large glass casing, which makes the camera look enormous
.
Moreover, the protective glass protrudes a bit leaving it susceptible to scratches
.
The front of the Nexus 5 is protected by Gorilla Glass 3, which combined with the plastic shell and give you an additional peace of mind in case of drops
.
We're not entirely sure how the glass in front of the rear camera is going to fare, though
.
Controls and handling
Other than the display at the front, there's a 1
.
3MP front-facing camera above it. As per tradition, there's also a notification LED light at the bottom
.
It pulsates when there's a missed call or a new message in 10-second intervals
.
Sadly, Android provides no out-of-the-box way to customize the duration, so you'll have to use third-party apps for that
.
The front-facing camera at the top • LED notification light at the bottom
The left side of the LG Nexus 5 holds the volume rocker, while the right houses the Power/Lock key
.
All buttons are made of ceramic and feel extremely solid
.
A slight downside is that they can sometimes feel rough since their edges aren't perfectly smooth
.
Below the Power/Lock key lies the micro-SIM card slot tray that's accessed via the provided pin tool
.
Using tools for accessing the SIM slot isn't ideal when you need to switch cards on the go, but luckily that's not something that happens too often
.
The buttons on the Nexus 5 are made of ceramic
The top of the Nexus 5 is where you find the 3
.
5mm headphone jack and the secondary microphone. The microphone is used for active noise cancellation, but unfortunately it doesn't enable stereo sound recording out of box
.
You can enable that
with a tweak
if you are knowledgeable enough, but it's downright disappointing that you need to do that in the first place
.
The 3

.

5mm headphone jack and secondary mic are on top
The bottom part is pleasantly designed with precision cut holes that sadly hold a single speaker and a microphone, rather than a stereo setup
.
It's located on the left to the microUSB port
.
The bottom looks cool with the cutout grills
Finally, we come to the back, where the 8MP camera is heavily accented by the protruding and large protective glass cover
.
Below it sits the LED flash and a large Nexus logo joined by a smaller LG one below it
.
The Nexus 5 carries a low price tag, but this shouldn't get you fooled into thinking it's a cheaply made smartphone
.
It's not and feels solidly built with its underrated minimalist design
.
The soft touch plastic at the back helps the grip quite a lot
.
Handling the Google Nexus 5
The 5" form-factor has reasonable operability with one hand, while pocketing the smartphone is rarely a problem either
.
Battery life
Under the soft touch back cover sits a 2,300mAh Li-Ion battery, which Google rates to last up to 17 hours of 3G talk time
.
Naturally, we run the Nexus 5 through our circle of battery endurance tests and it managed an endurance rating of 40 hours
.
You can find a full breakdown of how it did in our dedicated
Nexus 5 battery life blog post
.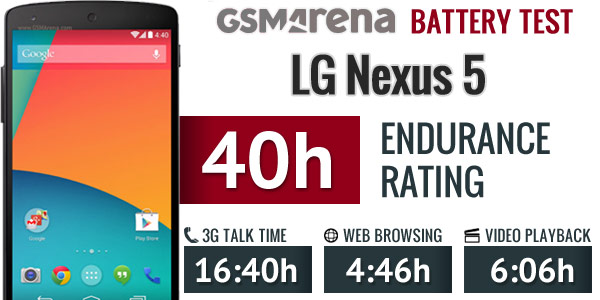 Display
At the front of the Google Nexus 5 stands a 5" True HD IPS of Full HD resolution
.
In theory it should be a panel similar to the 5.2" one in the LG G2, although we found it to be slightly different and not just due to the different tuning
.
The display is impressively sharp, thanks to the amazing pixel density of 445ppi
.
Here's what the screen looks like through the eye of our digital microscope: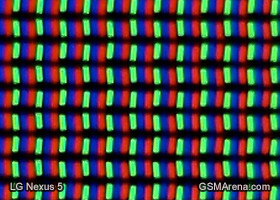 The color balance is quiet good and slightly better than even what the G2 offered
.
Contrast is a lower though and so is saturation, which means some of the extra punchiness is gone
.
Those who favor more natural reproduction will certainly be happy with the Nexus 5 screen, though
.
Display test
50% brightness
100% brightness
Black, cd/m

2

White, cd/m

2

Contrast ratio
Black, cd/m

2

White, cd/m

2

Contrast ratio
LG Nexus 5
0

.

31
298
948
0

.

54
526
967
LG G2
0

.

10
149
1522
0

.

45
667
1495
LG Optimus G
0

.

14
197
1445
0

.

33
417
1438
Sony Xperia Z1
-
-
-
0

.

38
580
1513
Samsung I9505 Galaxy S4
0
201
∞
0
404
∞
HTC One
0

.

13
205
1580
0

.

42
647
1541
Oppo Find 5
0

.

17
176
1123
0

.

51
565
1107
The overall screen reflectiveness is very low and the display is very bright
.
There is some contrast loss when you are viewing the screen at an angle, but it's minor and won't take away from the otherwise good picture quality
.
Sunlight contrast ratio
Nokia 808 PureView
4

.

698
Apple iPhone 5
3

.

997
Samsung Galaxy Note 3
3

.

997
Samsung I9300 Galaxy S III
3

.

419
Nokia Lumia 925
3

.

402
Samsung I9505 Galaxy S4
3

.

352
Samsung Omnia W
3

.

301
Samsung Galaxy S
3

.

155
Samsung Galaxy S4 mini
3

.

127
Samsung Galaxy S4 zoom
3

.

118
Nokia N9
3.069
Samsung Galaxy Note
2

.

970
Sony Xperia Z1
2

.

950
HTC One S
2.901
BlackBerry Q10
2

.

856
Samsung Galaxy S II
2

.

832
Samsung Galaxy S II Plus
2

.

801
BlackBerry Z30
2

.

790
Huawei Ascend P1
2

.

655
Sony Xperia ZR
2

.

672
Nokia Lumia 900
2

.

562
HTC One Max
2.537
Nokia Lumia 720
2

.

512
HTC One
2.504
Sony Xperia Z
2

.

462
Samsung Galaxy S III mini
2

.

422
Motorola RAZR i
2

.

366
Samsung Galaxy Note II
2

.

307
Apple iPhone 4S
2

.

269
HTC Desire 600 dual sim
2

.

262
LG Nexus 5
2

.

228
HTC One X
2.158
Nokia N8
2

.

144
Oppo Find 5
2.088
BlackBerry Z10
2

.

051
Apple iPhone 4
2

.

016
HTC One mini
2

.

003
LG G2
1.976
Sony Ericsson Xperia ray
1

.

955
Samsung Galaxy Camera
1

.

938
HTC Butterfly
1

.

873
Huawei Ascend P6
1

.

865
Sony Xperia V
1

.

792
Sony Xperia U
1

.

758
Meizu MX3
1.754
LG Optimus 4X HD
1

.

691
HTC One V
1.685
BlackBerry Q5
1

.

682
LG Optimus Vu
1

.

680
LG Optimus GJ
1

.

666
HTC Desire V
1

.

646
Sony Xperia Z Ultra
1

.

578
Samsung Galaxy Core
1

.

563
LG Optimus G Pro
1

.

552
LG Optimus 3D
1

.

542
Nokia Asha 302
1

.

537
Sony Xperia M
1

.

473
Nokia Lumia 610
1

.

432
Gigabyte GSmart G1355
1

.

361
HTC Desire C
1

.

300
Nokia Asha 501
1

.

270
LG Optimus L7
1

.

269
LG Optimus L9
1

.

227
Meizu MX
1.221
Sony Xperia E dual
1

.

203
Samsung Galaxy Pocket
1

.

180
Sony Xperia tipo
1

.

166
Samsung Galaxy mini 2
1

.

114
Sweet KitKat Android premieres on Nexus 5
Google Nexus 5 is the first smartphone to run on Google's latest Android 4
.
4 KitKat OS. Just like the previous Jelly Bean iterations, KitKat doesn't bring any game changers
.
Instead it polishes further the user experience, overall system performance and experience, plus brings along some handy system app updates
.
For example, Android KitKat comes with the latest Hangouts app that combines SMS, MMS and Gtalk chats into just one single app
.
It also introduces a new powerful Phone app and an even easier way to interact with Google Now
.
First things first though, here is our traditional video walkthrough to get you started
.
The lockscreen in Android 4
.
4 KitKat features the same large dotted circle around the center-placed padlock button
.
Lockscreen widgets remain unchanged and are full-screen, resizable tiles, one of which is always visible at the top of the main lockscreen, above the padlock icon
.
The rest are a right swipe away. The widget on the main lockscreen is collapsed to make room for the padlock button, but can be expanded to display additional information
.
There are a few stock lockscreen widgets: Messages, Calendar, Gmail, Digital Clock, Google Now and Google+
.
The camera shortcut, just like before, is a left swipe on the lockscreen
.
Lockscreen widgets are resizable - tap and drag down to expand and show more content, if available
.
Lockscreen widgets can also be reordered by tapping and dragging, so you can choose which one is visible on the main lockscreen
.
They can also be dragged up to discard.
There are multiple unlock patterns to choose from: simple slide, pattern, pin or password, and face unlock
.
The lockscreen could even be skipped altogether.
Once unlocked, you're get welcomed by the new homescreen interface
.
Even though it looks quite familiar, you'll immediately notice the new redesigned and bigger icons on a new colorful wallpaper
.
The app drawer shortcut is also different.
Android 4.4 KitKat brings a brand new homescreen - Google Now
.
It is always the leftmost pane on the homescreen. You can't set it as a default homescreen but you can turn it off if you like, just like the BlinkFeed on the HTC One lineup
.
The bottom of the screen is reserved for the three navigation controls: Back, Home and Recent Apps
.
The dock is customizable and features two shortcut icons on either side of the app drawer key
.
You can have folders there, each with multiple shortcuts
.
Google's Daydream is available on KitKat, too
.
Once turned on, you can set it up to show photo albums, the latest news from Google Currents, the clock or a somewhat childish Android KitKat animation with colorful squares when the device is either docked or idle
.
The notification center is the same as before and Quick toggles are available
.
They're accessible via an icon in the top right corner of the notification area
.
You get access to key device settings such as brightness, Wi-Fi, Bluetooth, location, mobile networks and Battery
.
Some toggles are directly accessible shortcuts to their respected functions in the settings menu
.
The quick settings menu can be accessed by a two-finger swipe down from the top of the screen
.
Your name and photo are displayed in the toggle area as well, but only after you've logged in to Google+ account or after you've manually set them yourself
.
Notifications can be expanded and collapsed with a downwards swipe, and the top one is expanded by default (if the app that put up the notification supports it, of course)
.
The homescreen consists of just two pane - Google Now and the default one with a bunch of shortcuts
.
You can add more once you start putting widgets, shortcuts or folders
.
You can add as many panes as you want (we gave up at a total of fifteen)
.
The widgets are no longer part of the app drawer
.
You can access the widget list only by a tap and hold on an empty space on the homescreen and selecting the dedicated Widgets shortcut
.
We prefer this way of handling the widgets, because they don't get in the way of the day-to-day work with the app drawer
.
Most of the widgets are resizable in all directions in order to fit into any tight space
.
To resize a widget, you tap and hold and then release
.
Four handles will appear on its sides, allowing you to change the widget's size in the direction you want
.
Folder functionality hasn't been changed since Ice Cream Sandwich and functions as you'd expect
.
A folder is created by dropping an app shortcut on top of another shortcut and can be named by tapping on the "Unnamed folder" label
.
Opening a folder expands it only as much as needed to show the icons inside
.
The folders icons themselves are circular with several individual app shortcuts stacked on top of each other
.
They are lined up so the first shortcut in the folder will be the only one unobscured - the rest of the icons are nearly impossible to tell apart
.
The app drawer of Nexus 5 consists of 5 rows of icons on side-scrollable pages
.
That's it - no Play Store dedicated shortcut, no tabs and no widgets
.
And this time around the app icons are big, and we mean BIG
.
Just check the screenshots below.
The apps are ordered alphabetically and there's no other sorting option
.
Come on, Google, is this too much to ask? here is no option for manual re-arrangement and newly installed apps take up a spot in relation to their respective alphabetical order instead of getting placed in the end of the list, which would have made them easier to get to
.
Placing a shortcut on the homescreen works as you would expect: press and hold to grab it and then position it on the homescreen pane of choice
.
Two more options appear at the top of the screen while you're dragging - Uninstall (to quickly remove apps) and App info, which opens the application's entry in the Manage applications list
.
Last but not least, the Recent Apps list has remained virtually unchanged
.
It would be nice if Google finally adds a kill all/close all option
.
As a whole, Android 4
.
4 Kit Kat offers a polished and smooth user interface and coupled with the top of the line chipset, operation is lightning fast all the time
.
We'll explore the performance further in our dedicated benchmark section
.
The Android 4.4 tweaks don't end here though
.
Follow us, as we continue to explore. Next up, Google Now
.
Google Now gets better
Google Now was first introduced back in Jelly Bean 4
.
1 and is definitely one of the most interesting aspects of the Android OS
.
Simply put, it's Google's version of a personal assistant
.
Google Now is in the same neck of the woods as Apple's Siri, but it learns constantly from your daily routines
.
It's accessed by holding the home button (plus an upwards swipe), swiping to leftmost pane or just by saying "OK, Google"
.
We found out that the Nexus 5 fires up Google Now on the first G of the command, so you can just say "OK, G" or "OK, Go" and that will be enough
.
For all it's worth, "OK, Jesus" and "OK, Grandpa" worked too
.
Google Now gives you short overview of information it believes is relevant to you right now in the form of cards
.
Going to work in the morning
?
Google Now knows this and lets you know there's a big traffic jam on your usual way to the office, so it offers you a re-route
.
It can interpret a lot of things from your search history as well
.
If you've been searching for, let's say, your favorite football team, Google Now will prepare a card showing you the next match the team is playing and will provide you score updates once the game begins
.
Google Now, if you allow it, can scan your email for upcoming flights, deliveries or restaurant reservations and let you know when they are due
.
There are also numerous kinds of cards like birthdays (yours and those of your contacts) and what distance you've walked in a particular month
.
The last one could definitely feel creepy for some users, but it's easily turned off from the Google Now settings menu
.
Google has also integrated Voice Actions into Now
.
They can handle stuff like sending messages (SMS or email), initiating a voice call, asking for directions, taking a note or opening a site
.
Google Now can also launch apps, check and manage your calendar and look for nearby places of interest and stuff like movie openings in theaters
.
Google has added lots of more customization on Google Now in Android 4
.
4 KitKat. You can now set your default transportation method, you favorite sports teams, company stocks you are following, places you are interested to visit and more
.
Once you add items you want to keep an eye on Google Now will do this instead of you
.
It will automatically inform you for various changes, news and updates
.
The More section of the customization will update automatically with topics you can choose from once you've start using Google Now search capabilities
.
You can now set reminders straight from Google Now's UI
.
Just hit the bottom left icon (the palm with a stretched index finger)
.
There you can add reminders or just check all the past, ongoing or upcoming reminders
.
One big advantage of Google Now is that the voice typing functionality doesn't require an internet connection to work
.
You can enter text by speaking anywhere you can use the on-screen keyboard - be it the Messaging app or a note taking app - without the need for a data connection as long as you have pre-downloaded the needed language packs (and those only take about 20-25MB of your storage per pack)
.
Making voice typing available offline also made it faster as it's not dependent on your connection
.
What's even more impressive is that the transition hasn't cost it anything in terms of accuracy
.
Synthetic benchmarks
Hardware-wise the LG-made Nexus 5 is pretty much the same as the company's G2 flagship aside from the slightly smaller screen
.
The Nexus 5 runs on the same top of the line Snapdragon 800 chipset with a 2
.
27GHz quad-core Krait 400 processor, Adreno 330 graphics and 2GB of RAM
.
Android 4.4 KitKat brings Project Svelte UI optimizations, the successor of Project Butter
.
Svelte allows even smoother performance and in the meantime lowers the Android hardware requirements down to 512MB RAM, which would open the doors to the latest Android build to budget devices
!
You'd expect the Nexus 5 to perform the same as the rest of the Snapdragon 800 gang, but then you'd be wrong
.
Unlike Samsung, LG or HTC, Google had no interest in boosting benchmarking scores and performance and so the stock Android 4
.
4 KitKat offers no optimizations in this direction. As the charts below will show you, the Nexus 5 benchmark results are much lower than the other Snapdragon 800 devices, simply because there is no "cheating" involved while running the benchmark app
.
As usual our first test is all about single-core performance
.
The Nexus 5 scores are quite similar to the Krait 300 CPU on the Snapdragon 600 platform, which proves all of the Snapdragon 800 flagships have been optimized to run better on this benchmark
.
The Linpack results are even worse, which just proves our point
.
Benchmark Pi
Lower is better
Samsung Galaxy Note 3
99
LG G2
99
Sony Xperia Z1
115
Sony Xperia Z Ultra
115
Samsung Galaxy S4 Active
130
HTC One Max
131
Samsung Galaxy S4 (Octa)
132
Samsung Galaxy S4 (S600)
132
HTC Butterfly S
135
LG Nexus 5
146
LG Optimus G Pro
147
HTC One
151
Samsung Galaxy S4 mini
166
Sony Xperia Z
264
HTC Butterfly
266
Oppo Find 5
267
HTC One X+
280
LG Optimus G
285
HTC One mini
293
Samsung Galaxy Note II
305
Meizu MX3
307
HTC One X (Tegra 3)
330
LG Optimus 4X HD
350
Samsung Galaxy S III
359
Nexus 4
431
Linpack
Higher is better
Samsung Galaxy Note 3
1081
LG G2
1054
Sony Xperia Z Ultra
1034
Sony Xperia Z1
1004
Samsung Galaxy S4 Active
818
Samsung Galaxy S4 (Octa)
791
Samsung Galaxy S4 (S600)
788
LG Optimus G Pro
743
HTC One Max
723
HTC Butterfly S
669
HTC One
646
Sony Xperia Z
630
HTC Butterfly
624
LG Optimus G
608
Oppo Find 5
593
Samsung Galaxy S4 mini
413
LG Nexus 5
393
HTC One mini
320
Meizu MX3
289
Samsung Galaxy Note II
214

.

3
Nexus 4
213.5
HTC One X+
177

.

7
Samsung Galaxy S III
175

.

5
HTC One X
160.9
LG Optimus 4X HD
141.5
The Nexus 5 did as good on the Geekbench 3 cross-platform benchmark as its competitors
.
Note that the Galaxy Note 3 has been found guilty of cheating a lot on this test
.
Geekbench 3
Higher is better
Samsung Galaxy Note 3
2937
Sony Xperia Z Ultra
2670
Sony Xperia Z1
2638
Apple iPhone 5s
2561
LG Nexus 5
2453
LG G2
2243
HTC One
1972
HTC One Max
1899
Samsung Galaxy S4 (S600)
1869
LG Optimus G
1623
Meizu MX3
1579
Huawei Ascend P6
1315
LG Nexus 4
1288
HTC Butterfly
1257
Oppo R819
1047
HTC One mini
887
Moving on to compound benchmarks, AnTuTu and Quadrant
.
In AnTuTu Nexus 5 scored similar results to the previous generation Snapdragon 600 devices, while it did really poor on Quadrant
.
We guess the AnTuTu lower score is due to the lack of optimizations, while Quadrant might not run its tests properly on the newly released Android 4
.
4 KitKat.
AnTuTu 4
Higher is better
Samsung Galaxy Note 3
31109
Sony Xperia Z1
30850
LG G2
30243
Sony Xperia Z Ultra
29185
Samsung Galaxy S4
27613
HTC One
26389
HTC One Max
26348
LG Nexus 5
25097
Meizu MX3
24391
LG Nexus 4
17006
Quadrant
Higher is better
Sony Xperia Z1
20388
Samsung Galaxy Note 3
20052
LG G2
19815
Sony Xperia Z Ultra
18177
HTC Butterfly S
13130
Samsung Galaxy S4 (Octa)
12446
Samsung Galaxy S4 (S600)
12376
LG Optimus G Pro
12105
HTC One Max
11914
HTC One
11746
Samsung Galaxy S4 Active
11346
LG Nexus 5
8844
Sony Xperia Z
8075
HTC One X+
7632
LG Optimus G
7439
Samsung Galaxy S4 mini
7153
Oppo Find 5
7111
Meizu MX3
6116
HTC One mini
6048
HTC One X
5952
Samsung Galaxy Note II
5916
Samsung Galaxy S III
5450
Nexus 4
4567
Now let's look at the GPU benchmarks
.
We ran GLBenchmark 2.5 and 2
.
7 in 1080p off-screen mode, which is also the native screen resolution for the flagships
.
The Nexus 5 matched the Snapdragon 800 competition on this test
.
GLBenchmark 2.5 Egypt (1080p off-screen
)

Higher is better
Samsung Galaxy Note 3
68
Sony Xperia Z1
60
Sony Xperia Z Ultra
60
LG Nexus 5
57
Apple iPhone 5s
56
LG G2
54
Samsung Galaxy S4 (Octa)
43
HTC Butterfly S
42
Meizu MX3
42
Samsung Galaxy S4 (S600)
41
Samsung Galaxy S4 Active
41
HTC One Max
41
HTC One
37
Oppo Find 5
32
Google Nexus 4
32
Sony Xperia Z
31
Sony Xperia ZL
31
Sony Xperia SP
31
Apple iPhone 5
30
LG Optimus G Pro
30
LG Optimus G
21
Samsung Galaxy Mega 6

.

3
17
Samsung Galaxy S4 mini
17
Samsung Galaxy Note II
17
HTC One mini
15
HTC One X
11
GLBenchmark 2
.

7 T-Rex (1080p off-screen

)

Higher is better
Samsung Galaxy Note 3
26
LG Nexus 5
23
Sony Xperia Z1
23
Sony Xperia Z Ultra
23
Apple iPhone 5s
23
LG G2
22
Samsung Galaxy S4 (S600)
17

.

1
Samsung Galaxy S4 (Octa)
17

.

1
Apple iPad 4
16.8
HTC Butterfly S
16
Samsung Galaxy S4 Active
16
HTC One Max
14
Google Nexus 10
13

.

9
LG Optimus G
13.9
Sony Xperia Z
13.5
Meizu MX3
13
Sony Xperia Tablet Z
13
Sony Xperia ZL
12

.

8
Samsung Galaxy S4 mini
6

.

4
Samsung Galaxy Mega 6

.

3
6.3
HTC One mini
5

.

6
Samsung Galaxy Note II
4

.

9
The Adreno 330 on the Nexus 5 did the same on the Epic Citadel, too
.
Its score is very close to Galaxy Note 3 and Xperia Z1
.
Epic Citadel
Higher is better
Meizu MX3
58

.

8
Sony Xperia Z1
54.9
Sony Xperia Z Ultra
54

.

9
LG G2
51
LG Nexus 5
49

.

1
Samsung Galaxy Note 3
47

.

7
Samsung Galaxy S4 (S600)
37

.

2
HTC One
35

.

6
HTC One Max
34.9
HTC Butterfly
29

.

6
Finally, we come to JavaScript, which is a known Achilles heel to stock Android
.
Surprisingly, the Nexus 5 did a lot better than we expected, scoring the same as Sony's Xperia Z1 Chrome browser
.
SunSpider
Lower is better
Apple iPhone 5s
403
Samsung Galaxy Note 3
587
Apple iPhone 5
694
Apple iPhone 5c
704
Sony Xperia Z Ultra
750
LG Nexus 5
827
Sony Xperia Z1
845
LG G2
908
Samsung Galaxy S4 (S600)
1046
Meizu MX3
1085
HTC One
1174
HTC One Max
1295
LG Optimus G
1293
HTC One mini
1375
LG Nexus 4
1379
HTC Butterfly
1397
Oppo R819
1423
The last benchmark we did was the BrowserMark 2, which tests the overall browsing performance
.
Google's Nexus 5 turned out to be among the best devices we've tested so far
.
BrowserMark 2
Higher is better
Apple iPhone 5s
3549
Samsung Galaxy Note 3
3041
Apple iPhone 5
2825
Apple iPhone 5c
2799
LG Nexus 5
2745
LG G2
2718
LG Optimus G
2555
Samsung Galaxy S4 (S600)
2438
Sony Xperia Z Ultra
2419
Sony Xperia Z1
2398
HTC Butterfly S
2378
Samsung Galaxy S4 Active
2338
Samsung Galaxy S4 mini
2314
HTC One
2262
HTC One Max
2243
Sony Xperia Tablet Z
2170
HTC One mini
2164
Sony Xperia ZL
2107
Sony Xperia Z
2093
Meizu MX3
1832
LG Optimus G Pro
1801
Oppo Find 5
1797
Nexus 4
1794
Nokia Lumia 920
1774
Google Nexus 10
1773
HTC Butterfly
1475
Samsung Galaxy S III
1247
The stock Android 4
.
4 KitKat with its Project Svelte ran perfectly smooth on the Nexus 5
.
Even though the flagship scores lower than the competition on the benchmarks, the Nexus 5 is still among the smoothest and lag-free Android smartphone we've seen to date
.
Everything is blazing fast, scrolling and app launch is really fast and fluid, the overall UI speed has been bumped too
.
This is how Android should have run in the first place on every device
.
It took Google a while to achieve what Apple has done with the iOS, but it is finally here - a lag-free, fast and buttery smooth Android OS
.
Same phonebook
Smart telephony
Speakerphone test
Voice, dB
Pink noise/Music, dB
Ringingphone, dB
Overal score
Sony Xperia Z
60

.

1
58.3
61.6
Below Average
LG G2
65

.

7
62.2
66.2
Below Average
LG Nexus 5
65

.

0
64.8
65

.

8
Below Average
Meizu MX3
67

.

1
66.5
77.7
Good
HTC One
69

.

3
66.6
75.9
Good
HTC One mini
68

.

0
68.7
78.1
Good
Samsung I9505 Galaxy S4
70

.

6
66.2
77.3
Good
Samsung Galaxy Note 3
70

.

5
66.6
78.0
Good
LG Nexus 4
71

.

0
66.6
78.8
Good
Samsung Galaxy S4 Active
72

.

7
66.6
78.1
Good
LG Optimus G
74

.

6
71.3
82.7
Excellent
Hangouts is now your messaging hub
Text input
Photos and Gallery handle your images and videos
Poor video player integrated within the gallery apps
Listen or stream your music via Google Play Music
Audio output is smooth but quiet
Test
Frequency response
Noise level
Dynamic range
THD
IMD + Noise
Stereo crosstalk
LG Nexus 5
+0

.

02, -0.08
-93.3
93

.

2
0.041
0.028
-94.3
LG Nexus 5 (headphones attached)
+0

.

18, -0.08
-91.0
93.1
0

.

046
0.079
-54.2
LG G2
+0

.

03, -0.28
-91.9
91

.

9
0.0097
0.011
-91.3
LG G2 (headphones attached)
+0

.

07, -0.03
-91.5
91.8
0

.

037
0.041
-54.3
HTC One
+0

.

11, -0.14
-92.4
91

.

2
0.0012
0.013
-92.4
HTC One (headphones attached)
+0

.

16, -0.07
-92.1
90.9
0

.

014
0.055
-70.8
Samsung Galaxy S4
+0

.

03, -0.08
-95.9
93

.

2
0.0030
0.0092
-96.4
Samsung Galaxy S4 (headphones attached)
+0

.

03, -0.08
-96.0
93.3
0

.

0031
0.089
-95.5
LG Nexus 4
+0

.

11, -0.10
-82.3
82

.

3
0.0040
0.019
-82.0
LG Nexus 4 (headphones attached)
+0

.

06, -0.36
-81.0
81.1
0

.

011
0.091
-62.4
Apple iPhone 5s
+0

.

02, -0.05
-93.6
93

.

7
0.0013
0.0068
-90.3
Apple iPhone 5s (headphones attached)
+0

.

12, -0.00
-93.4
93.3
0

.

0016
0.060
-76.1
LG Nexus 5 frequency response
8MP camera does okay
The Nexus 5 doesn't pay attention to the megapixel race and instead keeps the more than adequate 8 MP resolution of last year's Nexus
.
There's an LED flash as well but what's more impressive is the optical image stabilization
.
The Nexus 4 had a 1/4
.
0" camera sensor and 1.12um pixels, while the Nexus 5 packs a much larger 1/3
.
2" image, which given results bigger 1.4um pixels
.
The camera app looks exactly the same as what we saw premiered on the Google Play Edition Samsung Galaxy S4 and HTC One in Android Jelly Bean 4
.
3
.
It brings an end to the quick settings ring and instead opts for a quick settings arch
.
You need to hold a finger anywhere in the viewfinder to get to the quick settings
.
Using swipe gestures you can toggle the HDR mode, exposure, settings for picture size, white balance, timer, geo-tagging, scene mode, flash on or off and switching to the front-facing camera
.
It's not the most useful of ways to navigate the camera app in our mind
.
Quick settings can also be triggered by touching the corresponding icon atop the virtual shutter button
.
You can choose Camcorder, Panorama and Photosphere through the underlying shortcut
.
The viewfinder is annoyingly thought-out
.
It shows you a 16:9 feed while snapping photos in 4:3 aspect
.
So in essence it's a real task to frame your photos right and you cannot opt for the native aspect
.
Photosphere lets you take Street View panoramas of your surroundings
.
You start by aligning your image and then just move the phone about following a generated dot
.
After you've covered the entire surrounding scene the device generates a panorama, which can be viewed as a Photosphere in the Gallery and uploaded to Google's servers to be featured in Maps (if it's good enough)
.
The LG Nexus 5 camera image quality is about average (which is admittedly is a huge step forward from the disappointing snapper of the Nexus 4)
.
The level of detail is very good for the 8MP league, although there's notable softness towards the left edge of the frame
.
Noise levels are above average, but certainly not the worst we have seen
.
White balance turned out to be particularly problematic for the Nexus 5
.
The smartphone has a really hard time getting it right and often produces images that are way too cold or too warm
.
Nexus 5 camera samples
The new HDR+ mode on the Nexus 5 does a decent job, adding a dash of extra detail in the highlights and keeping the shadows just about unchanged
.
This means the contrast doesn't suffer and since we got no detail smearing either
.
You should keep in mind that it slightly reduces the maximum image resolution from 3264x2448 to 3200x2368 pixels, though
.
Nexus 5 HDR+ samples: Off • On
Macro mode was arguably the best part of the Nexus 5 camera performance
.
It was able to get very close to the desired subjects and produced very detailed results with nicely blurred backgrounds
.
Nexus 5 macro samples
The Nexus 5 camera certainly isn't going to win any photography contests - thanks to its poor white balance it can't even win its own 8MP league, let alone take the big guys with 13MP cameras (the Xperia Z1 and Lumia 1020 can't even be put in the same sentence with it)
.
However, the snapper on the latest Nexus will do just fine for those that aren't too demanding and with the proper skills can produce some pretty good shots
.
In other words - the camera may not be the Nexus 5 strongest weapon, but it's good enough not to be counted against the smartphone and after the Nexus 4 that's a win in its own right
.
Photo quality comparison
The Nexus 5 enters our Photo quality comparison tool to face the likes of the LG Nexus 4 and the iPhone 5s
.
You're free to select any other adversary, though.
FullHD is the limit
The camcorder interface borrows heavily from the camera one
.
It is, however, very limited in terms of options and gives you settings for white balance, camera preference (front or back), a flash toggle, geo-tagging and the option to choose the video resolution
.
You can take 1920 x 1080 images while recoding a video but we don't find that amusing, given that these are nothing more than screenshots captured mid video
.
There's an option for taking time lapse videos
.
You can choose an interval between half a second and 24 hours, so it's pretty flexible
.
Despite running on a highly capable Snapdragon 800 the Nexus 5 lacks 2160p (or 4K), slow-mo 720@120fps or speedy 1080@60fps video modes
.
What you're left with the standard (although not low by any means) FullHD 1080p video at 30 fps
.
The videos have a bitrate of around 17 Mbps and a framerate of around 29 frames per second
.
Audio is recorded with a rate of 96 Kbps and a sampling rate of 48 kHz in single channel (read mono)
.
Given that the Nexus 5 has two microphones not putting them to better use here is really disappointing
.
Videos are smooth and have pleasing colors, although the level of detail is about average
.
Focusing is okay but a little overly eager at times, hunting an constantly refocusing
.
Video quality comparison
The LG Nexus 5 enters our video quality comparison tool
.
It's obviously leaps and bounds ahead of its predecessor, although it doesn't come anywhere near the best camcorders out there
.
Connectivity gets LTE at last
The LG Nexus 5 starts off with the basics - quad-band GSM/GPRS/EDGE and penta-band 3G globally and dual-band CDMA and six HSDPA bands for the North American model
.
LTE is finally making its way to the Nexus family with seven supported bands in North America and six bands for the global model
.
Google's latest Android flagship uses Bluetooth 4
.
0 alongside Wi-Fi support which includes a/b/g/n, as well as the new ac standard, with both 2
.
4GHz and 5GHz band compatibility throughout
.
The Nexus 5 allows you to share all sorts of media via NFC by simply touching the device and other NFC-capable devices back-to-back
.
USB on the go is a here too, although its implementation is far from ideal
.
You get to use all sorts of USB-connecting peripherals like mice and keyboards, but we couldn't get it to read any external storage - USB sticks, card readers and external hard drives were a no-go
.
There's a workaround to this using third-party apps, which suggests that for some reason Google disabled the functionality on purpose
.
The LG Nexus 5 also offers wireless display streaming, which uses the Miracast standard
.
In essence it allows you to share the Nexus 5 screen content to a Miracast-supporting device via Wi-Fi
.
Google Chrome is solo
The Nexus 5 comes with Google Chrome as its solitary preinstalled browser
.
The interface hasn't changed since Chrome's launch for Android and is clean and minimalist
.
At the top there's an URL bar with a refresh/stop buttons next to tabs and settings buttons
.
You can switch between tabs with a wide swipe from either the left or right of the top bar
.
Opening the tabs area reveals a list of tabs which can be closed again with a left or right swipe
.
The animation accompanying this action is neat, too
.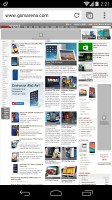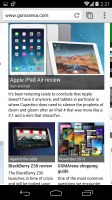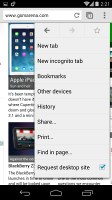 Google Chrome
Chrome is running on the WebKit rendering engine, so underneath the minimalist UI it's basically the same as all Android stock browsers
.
Of course, one of Chrome's strengths is its ability to seamlessly sync with its desktop version, using nothing but your Google account
.
This allows you to open an article on your PC and finish reading it on your mobile phone
.
It also syncs your bookmarks and favorite sites
.
Google Chrome is generous on settings as well
.
You can control almost every aspect of your web browsing from choosing what content you want to allow to load like JavaScript, images, cookies and pop-ups
.
If you are out of Wi-Fi access, you can, for example, choose temporarily not to load images
.
Digging into Chrome's options, you'll also have the option to turn the auto-fill of forms and storing passwords on or off
.
Unfortunately, while Chrome excels in many areas, it falls short on the one that could be a deal-breaker for many of Android users and this is Flash
.
Sadly, viewing Flash content is the one thing you won't be able to do here
.
Great organizer
The Nexus 5 doesn't come with a dedicated file browser, but getting one from the Play store is not trouble at all and doesn't necessarily require any cash spending
.
The calendar is as good as ever. There are four views - Daily, Weekly, Monthly and Agenda
.
The app can easily handle several online calendars as well as the local calendar
.
You can add multiple reminders for each event and search through all events
.
Recently Google added color-coding to events, which helps with organizing tasks
.
Google's own Keep app has seen some changes
.
What first started as a simple note-taking app is now a little more advanced
.
Why should you use Google Keep? Simple - first off it syncs with your Google account, so all of your notes are available on any Android or computer just seconds after you've entered your Google ID
.
Second Google Keep now let's you insert images into notes and also supports voice memos
.
The app also lets you color-code your notes and has a pretty straightforward way of taking them - just start typing and it's all saved
.
And finally you can simply swipe old notes away and even then they'll be available in your archived view
.
By the way, Google Keep features a nifty resizeable widget with scrollable notes view and shortcuts for creating new notes
.
Google Drive comes pre-installed on the Nexus 5
.
It brings all of your documents, presentations, forms and spreadsheets from the browser-based Drive along with folders, etc
.
You can create only docs and spreadsheets on the mobile version of the app
.
You can also snap photos and the app transforms them into PDF scans
.
One of the best things about Google Drive is the multi-user support
.
You can share a document and let others edit it real time alongside you
.
Everything is constantly being saved in the Google cloud, which gives you 15 GB of unified storage so you don't have to worry about losing important stuff
.
Quickoffice is more of an auxiliary app to Google Drive
.
It still lets you create documents, spreadsheets and, additionally, presentations
.
You can also scan the local storage for supported files and access your Google Drive docs
.
Opening the Clock app brings you to your local time giving you the ability to add as many additional world capital cities as you'd like (they will also be visible on your lockscreen widget upon expanding)
.
The usual alarm functionality is still present, albeit the fresh new design
.
You can set multiple alarms, each with its own repeat pattern, ringtone and label
.
The app also comes with a stopwatch and a timer.
The good old calculator is here too - it has big, easily thumbable keys and you can swipe to the left to bring up the advanced functions (trigonometry, square root, brackets, etc
.
).
Google Maps and Google Earth will guide you through
The `Nexus 5 comes with a GPS receiver, which took about a minute to get satellite lock upon a cold start (it supports GLONASS for faster, more accurate locks too)
.
You can use the A-GPS functionality to get near instantaneous locks
.
Alternatively, network positioning will also do if you only need an estimate of your location
.
Google Maps is a standard part of the Android package and we've covered it many times before
.
It offers voice-guided navigation in certain countries and falls back to a list of instructions elsewhere
.
3D buildings are shown for some of the bigger cities and you can use two-finger camera tilt and rotate to get a better view of the area
.
You can also plan routes, search for nearby POI and go into the always cool Street View
.
The app will reroute you if you get off course, even without a data connection
.
Google Maps uses vector maps, which are very data efficient
.
The latest version has a somewhat easier to use interface for caching maps - you pan/zoom around until the desired area is in view and choose "Make available offline" from the search bar (after you've scrolled past search results or prompts)
.
You can later view cached areas and delete ones you no longer need
.
Note that there's a limit to the size of the area you can cache - you can't just make all of Europe available offline, not even a whole country
.
We managed to cache Berlin and some surrounding regions before Maps told us the area is too big
.
Also, there's no address search in the cached maps and you can only cache map data in supported regions of the world
.
Google Play store has all the apps
Running on Android 4
.
4 KitKat, the Nexus 5 has access to the full (and latest) Google Play store
.
You get to your account, My Apps, My wishlist and parts of it through a side-swipable menu ala Google+
.
The Store is organized in a few scrollable tabs - categories, featured, top paid, top free, top grossing, top new paid, top new free and trending
.
The in-app section is untouched though and it's very informative - a description, latest changes, number of downloads and comments with rating
.
There is usually a demo video and several screenshots for most apps too
.
+
++ Conclusion
Final words
It's a year since Google made a splash with an impressively spec'd smartphone at a bargain price
.
The Nexus 4 wasn't a financial success perhaps but making a profit off selling hardware is rarely the first thing on Google's mind
.
The pure Android experience was the major selling point and getting more people into their cloud services must've been worth the investment - the Nexus price is clearly subsidized, the way Amazon subsidizes its Kindle tablets so it can make profit on selling content
.
Judging by our popularity chart, users are responding to Google's offer with enthusiasm
.
The Nexus lineup has traditionally premiered every single major version of Android in its purest form, clean of custom skins like Sense, TouchWiz, Xperia and Optimus UI and has been on a fast-track for OS updates ever since
.
Google has done well this time to match that with stellar hardware for a price that no one can possibly beat
.
Last year's Nexus 4 had great-sounding specs on paper but the choice of the hardware components wasn't as flawless
.
The screen had poor contrast and washed-out colors, the camera wasn't up to scratch and the white paint job came well after the black version
.
Yet, for that price then, no other premium smartphone was even in the same conversation
.
This year Google and LG tried to avoid that kind of argument and addressed most of the potential shortcomings by throwing a much improved 1080p screen and the latest Qualcomm chipset, both of which propel the Nexus 5 right into the flagship league
.
The camera may not look like a massive improvement but it's no longer the potential deal-breaker it used to be
.
Not to mention that its optical image stabilization is far from standard equipment even among flagships just yet
.
Google's decision to not bother with an 8GB version also makes sense - the non-expandable memory would have made it a no-go
.
Having non-expandable memory seems like a handicap, but the same limitation holds true for the LG's own G2
.
Still, arguably the biggest asset of the all-new Nexus 5 is Android KitKat, which is currently only available on this device
.
Sure, the Nexus 4 will get the same software but it will never look as good as it does on the Nexus 5's 1080p screen
.
Anyway, the sales of the Nexus 5, like its predecessors, will be limited to Google Play Devices store mainly and that's not as widely available as many people certainly wish
.
You will be able to eventually get the Nexus 5 from many online and walk-in stores around the world but the price will undoubtedly be higher, which sends the main benefit of the device right down the drain
.
Right now it appears that the main rival of the Nexus 5 for the ultimate Android smartphone is coming from LG
.
The LG G2 is basically the same package as the Nexus 5 with a bigger and better screen, better battery life, superior camera and at least a couple of well-placed gems in the inevitable Optimus rubble
.
The LG G2 will certainly takes some time getting to Android KitKat and after that it'll will find it next to impossible to keep up with the Nexus 5
.
Sony has a Snapdragon 800 beast of its own in the face of the Xperia Z1
.
That one easily beats the Nexus 5 in terms of design, camera and brings expandable storage, but goes a bit too far with the bezels
.
The Galaxy S4 is a typically strong entry by Samsung and is a must consider with a great AMOLED display and capable camera, along with some value-adding features courtesy of TouchWiz
.
You also get the option of pure Android if you fancy flashing the Google Edition ROM manual and a slightly better camera but sans the OIS
.
The Galaxy S4's Snapdragon 600 is clearly inferior to the Snapdragon 800 beast inside the Nexus 5, though, while its newly released LTE-A version can match it but at a significantly higher price
.
Just like the Galaxy S4, the HTC One will struggle to match the combination of processing power and KitKat optimizations on the Nexus 5, but it has the premium unibody design and the stereo speakers to try and make up for that
.
It too has a purified Google Play edition of its own
.
And finally, there is the Motorola Moto X - non-US residents can look away now
.
The Moto X is inferior in display and processing power but shares the unskinned UI and even adds a little of its own with at-a-glance notifications and always-on Google Now voice commands
.
The exterior customization options are second to none
.
But let's get down to brass tacks
.
There will always be a healthy assortment of hardware and software to choose from, especially in the Android realm
.
However at this stage none can match the Nexus 5 in terms of bang for your buck as long as the Play Store devices section is available in your country
.
The timely updates are indisputably a point in the Nexus 5's favor too
.
Of course, there's a flipside to this: the non-expandable memory is a weakness that the cloud just can't quite fix - at least not at the same price as a memory card
.
In time maybe, when LTE is everywhere and it's as cheap as chips, but not just yet
.
There's the question of battery backup too, and the less-than-stellar camera
.
But see how these are all issues of the hardware?
And the Nexus 5 is trying - and largely succeeding - to shift the focus away from that
.
Hit that power button and watch the hardware disappear
.
Swipe across the homescreen and find Google Now readily available
.
Say "Okay Google" and you're plugged in.
And if you can snatch one for Google Play price, it may as well be "Okay Google
.
It's a deal".