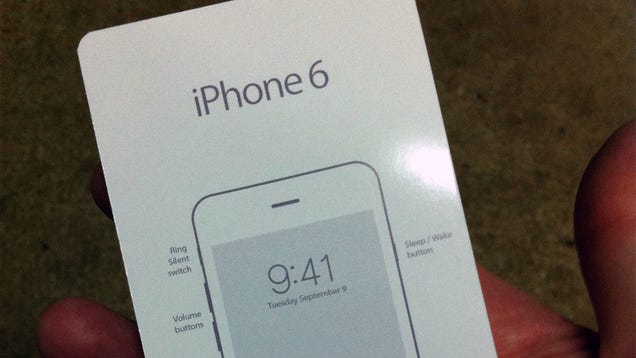 Expand
iPhone rumor season
is just days away from becoming iPhone reality season
, and a new leak from a usually reliable source appears to confirm some basic details.
The French tech blog Nowhere Else
just published images of an iPhone 6 Quick Start guide
.
The document includes the rumored iPhone 6 name as well as the location
of the sleep/wake button on the righthand side of the device, instead
of the top where it's historically been on the iPhone. The rumored
announcement date of September 9 is also displayed on the screen, which
is consistent with guides from past releases. Aside from the apparently
larger screen, everything else pretty much matches the existing iPhone
design.
It would be easy to write this off as a quick and dirty Photoshop job,
but Nowhere Else has a decent track record. Last year, the blog
published
a similar Quick Start guide for the iPhone 5S
just hours before the official announcement. That guide, which
apparently came from the same source as the iPhone 6 guide, correctly
identified the existence and name of the Touch ID home button. It's also
worth noting that that guide looked more complete, whereas this one
appears to be some sort of draft.
So, either way, there's reason to believe that this leak is legit.
We'll have to wait another 15 days (or so) to know for sure. But in the
meantime,
you can check out our rumor round up
and take a full look at what we're expecting. [
nowhereelse.fr
]